Gold
PRIDE

welcomes new teachers to community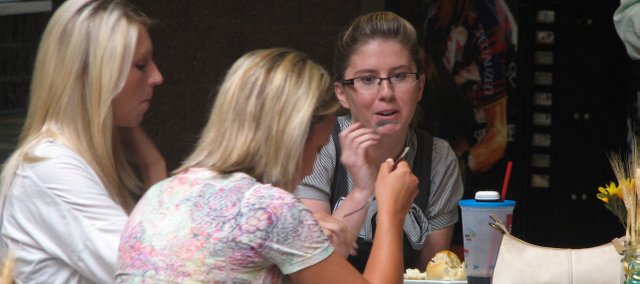 The Basehor Gold PRIDE group greeted some new faces in the Basehor-Linwood School District Aug. 6 at a new teachers luncheon.
For more than 10 years, Gold PRIDE has invited new teachers and administrators to lunch in order to welcome them to the community.
During the event's early years, the women of Gold PRIDE made all the food, but they have since had the lunch catered.
Basehor's newly opened Wolf Creek Marketplace provided a hearty meal this year for the district's 12 new full-time teachers and one part-time teacher.
Chuck Wilderson of Gold PRIDE introduced the rest of the group members to everyone present at the lunch and talked about why the group played host to the luncheon each year.
"Part of our community is the school district, so we feel that each of you is part of making our community a better place," Wilderson said to the crowd. "On behalf of PRIDE, Youth PRIDE and Gold PRIDE and the community, I'd like to thank you for coming and welcome you to Basehor-Linwood."
Gold PRIDE member Nola Cooper also spoke to the new teachers, saying she wanted to pass on to them some lessons she learned from her mother.
"My mother taught me about the circle of life," Cooper said. "'I brought you into this world, and I can take you out of it.'"
The luncheon was just one of the events planned to welcome the new faculty members, and several teachers said they were starting to feel right at home.
"I've been teaching for 20 years in four states and two countries, and this is the best welcome I've ever had," Sharon Knight de Gomez said, who will be teaching Spanish at Basehor-Linwood High School.
Similarly, Allison Dreiling, a new World History teacher at the high school, said she had been met with much generosity.
"We've all been made to feel very welcome to the community," Dreiling said. "And (the Gold PRIDE lunch) is a great opportunity to meet other community members. I'm just really excited to get started."
Teachers of grades kindergarten through ninth will meet their students today on the first day of school.
Teachers of sophomores, juniors and seniors will begin class Friday.