Senior spaghetti dinner feeds large, hungry crowd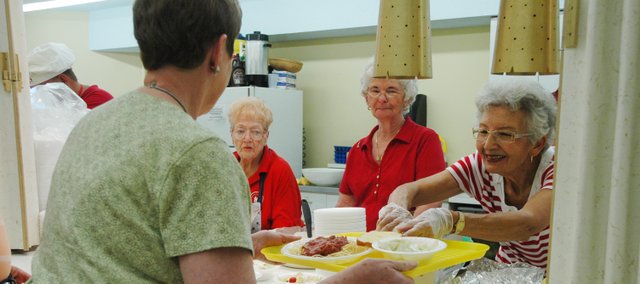 Photo Gallery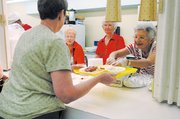 Bonner Springs spaghetti dinner 2009
The Senior Center's annual All-You-Can-Eat Spaghetti Dinner was Friday, Aug. 7. The center sold 420 tickets, giving them a profit of $1,500. That money will be given out in scholarships to graduating Bonner Springs High School seniors.
Ever year Nancy Johnson experiences the same anxiety.
With weeks to go before the Senior Center's annual All-You-Can-Eat Spaghetti Dinner, fears of failure lurk in her mind.
But just like years in the past, those fears quickly went away Friday evening as the turnout for the 2009 dinner was better than ever.
"The turnout was huge," Johnson said of Friday's community dinner. "We served 375 people. We did beautifully."
Johnson said 420 tickets were sold with 375 dessert tickets being turned in at the dessert table the day of the event. This overwhelming response left the Senior Center with a profit of $1,500. This means the center will either fund three $500 scholarships to graduating Bonner Springs High School seniors or will increase the amount of the two they usually give away.
By 6:15 p.m., Johnson said the line to get into the dinner grew to the point she was worried they'd run out of food. But careful planning and 19 years of experience planning the event made everything ok.
A couple of those attendants, Margie Himpel and Jean Haney, both of Tonganoxie, agreed.
"You can't beat it," Haney said. "I just keep coming back. I first came because a friend of mine was working at the dinner, but I keep coming back because it's so good."
"It is good," Himpel added. "It's a lot of work to put on this kind of thing. There's really a good crowd."
Joining the crowd was J.R. Berning, who said he's been attending the spaghetti dinner for many years.
"It's my civic duty," Berning, the Lions Club president, said of the reason he attends. "And the food is good too."
Berning said the event was a mixture of people helping people, from the seniors running the event to the residents attending the event. With that kind of attitude, Berning said it was an event like this that makes a person feel good about being part of the community.
Making sure the event ran smoothly were many volunteers from the Senior Center and some outside help that was recruited, Johnson said. The volunteers worked hard throughout dinner as they stuck to their assigned tasks, which ranged from serving, ticket taking and hopping from table to table greeting and cleaning up after people.
"All in all, everyone really pulled through together and managed to make the event another successful year," Johnson said.