Veteran Basehor-Linwood football squad hopes to build on state playoff experience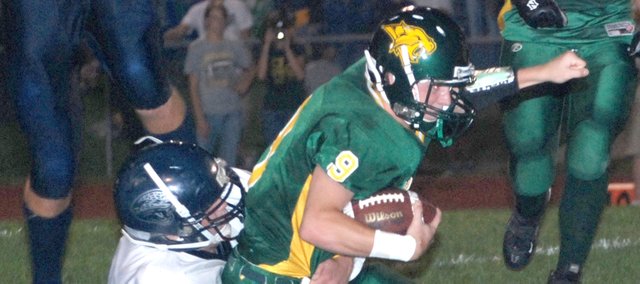 Basehor-Linwood football coach Steve Hopkins and his team are eager for the season to start on Monday.
Hopkins, in his sixth year, has more experience on his roster than in previous years. As he looks to the future, he wants to see how much the players remember of the past.
"A lot of our players remember losing to Holton and they want another shot at the playoffs, and they want to go further than they have ever gone," he said. "They are very excited."
Hopkins also is eager to see how much information his players have retained from the summer.
Kansas State High School Activities Association rules changes have allowed high school coaches to work with up to six players at one time. The team also has participated in seven-on-seven drills and had two strong camps, first the team camp and then a full contact camp at the University of St. Mary that allowed the players to experience playing against other teams.
Hopkins and the team will spend the first few days practicing in shoulder pads, reviewing schemes and working on defensive stunts and special teams. Contact practices begin Thursday.
"They forget everything that they learned initially once we put on shoulder pads," Hopkins said. "They get excited as far as hitting, and then we reel them in again. The first three days are always about learning, repeating, reviewing, the muscle memory of tackling and blocking."
Players will be expected to remember everything and translate it to game-time situations when the team plays its annual Green and White scrimmage on Aug. 27.
"What we want to see is what they remember," Hopkins said. "We had an excellent summer, a good summer camp in June. They were thrown in groups of six all summer. What do they remember? The kids that remember the quickest will get the first chance to play. Until we get the pads on, we will not know what they will do."
Experience is a plus this season for Basehor-Linwood, which returns 20 players that have started games. Players headlining that list include quarterback Brandon Leppke and Zack Ross, who have both started since their freshman years.
On defense, an All-Kaw Valley League linebacker Chandler King returns, along with Jake Potts. Both players were standouts a year ago.
With 23 seniors, the team should be better earlier in the season. It should be further along than past years, Hopkins said.
"The difference is the learning curve. It's most of the same things four straight years," he said. "It makes it go quicker, young kids watch naturally, and they take baby steps when they're around a veteran like Jake Potts on defense."