Plenty of excitement as Bobcats begin new year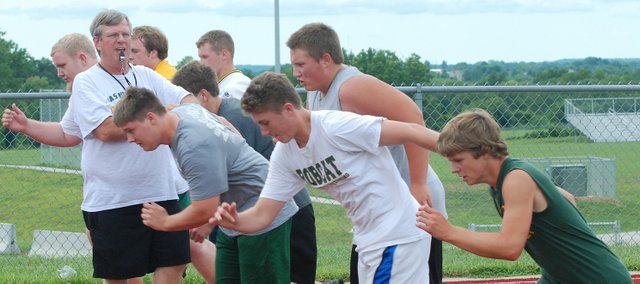 It's Monday morning, and there's magic in the air.
Well, maybe not magic, but there's definitely a buzz … an energy … positive vibes, for sure.
As of today, fall sports practices officially are under way. Victories of seasons past are old news, as are any struggles. Win and loss records are even. League title races are up for grabs. Everybody has a chance.
That's what's refreshing about the first day — and first few weeks — of practice. Everybody has good reason to be optimistic. There are no excuses for slacking. Possibilities are endless for everyone on day one, whether it's a traditional powerhouse or an underdog looking to make a breakthrough. Everyone's excited and emotions run high.
Coaches are anxious to find out if their summer preparation has paid off, and they're eager to see who has put in the most work and made the most improvement.
Athletes are a mix of nerves and excitement as they prepare to get back to work. They might be a little bit timid if they took the summer off, but they've probably got a noticeable swagger if they did their share of early-morning runs and spent lots of time in the weight room.
Reporters are abuzz, refreshed from the summer slowdown and on their toes looking for new story angles to emerge.
No matter our role — coach, athlete, parent, fan or reporter — the first day of practice brings with it a wave of chatter. That may be the most fun aspect of opening day for all of us. There are new stories to tell. There's new information about our local teams and their opponents. There are predictions to be made. It's like Selection Sunday or your fantasy football league's draft day. We're all excited as we prepare to delve into a new season of the unknown.
What will it take for the Basehor-Linwood High School football team to make yet another trip to the Class 4A state playoffs, and advance deeper this time?
How will the BLHS boys soccer team respond to the leadership of a new coach, and how will the Bobcats rebound from last year's rebuilding campaign?
Will the BLHS girls golf team send anybody to the state tournament this season? How about the cross country team? The Bobcat boys made major progress last year, and the girls are building around senior Kayla Peterson — a state qualifier in 2008.
What about the BLHS volleyball team? After a strong 2007 campaign, injuries hindered the Bobcats throughout 2008. Can they stay healthy against a brutal Kaw Valley League schedule in 2009 and challenge for a league title?
Questions abound about the upcoming season, and they will be answered during the next three months. On day one of practice, however, the sky is the limit for the Bobcats.