BLHS

opens football season with quality practices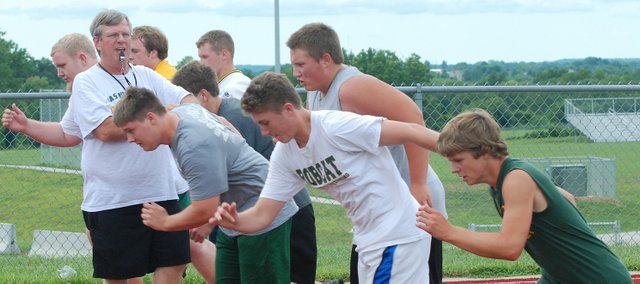 Basehor-Linwood High School football players have had two good days of practice, coach Steve Hopkins said Tuesday evening.
The team was able to practice in spite of rain Monday. On Tuesday, players ran in the morning and went through a three-hour practice after school.
The team looked good in the afternoon practice, with players looking crisp at times.
"We are doing the memory part; we are in the learning part of what we are doing and just trying to get quicker doing it," BLHS coach Steve Hopkins said.
They also emphasized conditioning, spending extensive time running wind sprints on the track to build off of the summer strength and conditioning program.
The team had one more day of two-a-day practices Wednesday before getting into pads today.
The Bobcats have battled the usual issues with seven players not having their physicals completed and missing practice time.
Those players are now a little behind but can work to get caught up, Hopkins said. The weather has been one positive.
"The heat has not been a factor," Hopkins said. "I am happier when I don't have to worry about kids dehydrating."
While contact practices begin today, the team's first scrimmage of the season is right around the corner. The Bobcats will line up and scrimmage at 8:30 a.m. Saturday at the high school. Hopkins said film from the scrimmage should help the coaches establish their initial two-deep depth chart for the season.
"We will know a lot more after that scrimmage," Hopkins said.
The team also will play in the annual Meet the Bobcats scrimmage on Thursday, Aug. 27. A meet-and-greet with the team will take place at 6:30 p.m. and the scrimmage will kick off at 7 p.m.
Basehor-Linwood opens the season Sept. 4 at Santa Fe Trail.