Former
BLHS

star returns to alma mater to give back as coach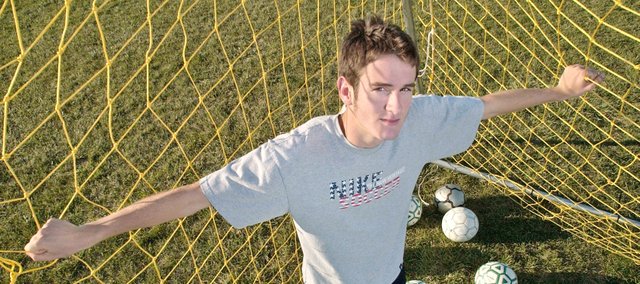 After a successful junior college soccer career, one of Basehor-Linwood High School's most heralded soccer players has returned home to serve as an assistant coach for the team.
Austin Knipp, who scored 100 goals during his high school soccer career and was also a standout basketball player, is serving as an assistant coach for the BLHS boys soccer team. He is assisting Jaclyn Naster, who is the team's new coach.
Naster is the team's varsity coach and has served as an assistant coach since 2005. She coached the girls program last spring.
Together, they will lead a team that finished 4-11-2 last season.
Knipp said he is excited to be coaching soccer at the school, specifically the junior varsity team.
"Well, I have only had two days of it," he said on Tuesday. "From two days of it, it is good. I have always wanted to do teaching and coaching. I have kind of been waiting for this day, though it came sooner than I expected because I am only 20."
Knipp was an All-State performer during his career at BLHS. He was the Bobcats' most prolific scorer, setting a state record for goals in a career, while also leading his team to a Kaw Valley League championship as a senior.
Following high school, Knipp played two years of soccer at Johnson County Community College. He said that he had opportunities to play beyond his junior college career, but he chose not to.
"I kind of lost the enthusiasm to play; there were a bunch of issues," he said. "I couldn't motivate myself to do anything with it anymore. It just wasn't fun."
While his passion for playing faded away, his love of being around the sport still burns. He hopes coaching will fill that void.
Knipp will attend the University of Kansas and major in education. He is studying to be an elementary school teacher and coach. Classes have started and Knipp will return to Basehor-Linwood for practices and games.
Being able to coach soccer made his decision to stop playing easier, and teaching the game has reenergized his enjoyment of it.
"Oh yeah, I have (the fire) back with coaching," he said. "It was one of my goals in life to coach, and I am pumped as can be for that. I felt like it was the right time to call it quits playing soccer. I am happy with the decision I made so far."
In many ways, it is like he has returned home. He is familiar with the Basehor-Linwood program. Naster was an assistant coach for the team when Knipp played there, so the transition was easy.
"I think we are on the same page for a lot of things," he said. "We have the same idea and all that and see eye to eye on a lot of things."
He also played with this year's seniors, Beau Himpel, Ian Smith and Cameron Maughmer.
"The seniors now were freshman when I was a senior," he said. "I am a coach now instead of a player and friend to them, and they understand that."
Knipp said he feels a little strange when he runs into one of his former Basehor-Linwood coaches and calls them by their first name. While the former player has a coaches' shirt and is the assistant boys coach, Knipp admitted it is a little strange being able to see a former coach and call them by their first name.
"It is still coach to me," he said.
Now, he is leading a group of players who will know him only as coach.
Basehor-Linwood opens the season Aug. 28 at home against De Soto.