High school working to ease freshman stress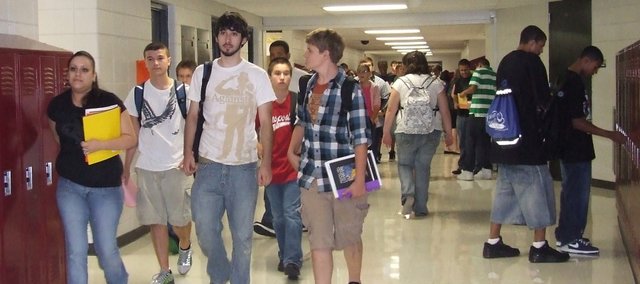 Moving from eighth-grade to ninth-grade can be one of the most difficult transitions a young person must face.
New school, new responsibilities and a new level of academic discipline make the step up from middle school to high school a scary time. But Bonner Springs High School is hoping to alleviate some of that stress by creating a new program designed to assist the incoming freshman class.
"Most failure in high school happens the freshman year," said BSHS assistant principal Joe Hornback. "If we can get the students on track early on, the rest of their high school should be successful."
This year, incoming BSHS freshmen will be divided into two "tribes," either the Shawnee or Delaware. Each tribe will have four assigned teachers, one from the English, science, math and social studies departments, as well as one assigned counselor and one assistant principal, either Hornback or Rick Moulin.
This task force of administration will work together to create an environment that best fits the needs of the students in each tribe. This will allow, Hornback said, for students to get more one-on-one attention, hopefully leading to a more successful high school career.
"We want to make the school fit the kid, not the kid fit into the school," Hornback said.
Each tribe will have a designated section of the building where all their classrooms will be located. They will also meet for 50 minutes every Wednesday to ensure communication between the students and their administrative teams.
Hornback said high school will be the first time many of the students are held accountable for their grades. Students will be responsible for getting the credits they need to graduate, which he said can be overwhelming.
With 200 freshmen coming into BSHS this year, Hornback said each one needs something different to succeed.
The program, he said, will hopefully pinpoint those needs so teachers can make changes to ensure each student doesn't feel like a "lone ranger" navigating high school alone.
"It's a team approach to success," Hornback said. "Anytime you have a transition to a new school, there is going to be adjustments."
The program has been in the works for two years since a pilot program was started. At that point, 43 students were chosen and received special faculty attention their freshman year. BSHS principal Jerry Abbott said the pilot program went well, leading to this year's expanded version.
In preparation, BSHS administrators looked at area schools such as Turner and Lansing with similar programs, as well as Hornback's alma mater in Des Moines.
During a trip to Iowa, administrators from BSHS picked the brains of those from Roosevelt High School, which is in its ninth year of a freshman academy. Abbott said, following that experience, BSHS tailored its own program to best fit the school's smaller size.
In addition to the academic success focus of the program, some leadership opportunities were added. Within each of the two tribes, students will be divided into four villages. Those villages will select two leaders who will have a say in tribe activities.
Abbott said as teachers take on the new school year, which started Tuesday, Aug. 18, excitement for the program was growing throughout the building.
"Parents should feel very good about the experience their children will have," Abbott said. "Their freshman year will be a wonderful foundation for what's to come."