New administrator begins work, police chief back on regular duty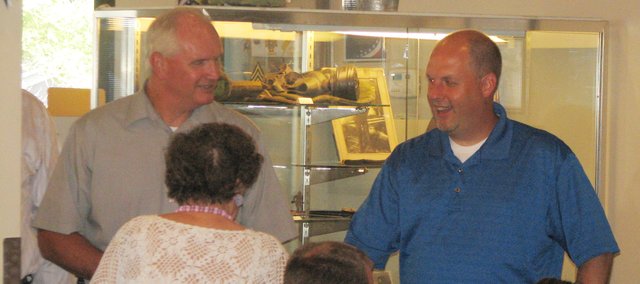 City Administrator Mark Loughry experienced his first Basehor City Council meeting Monday night.
Loughry's first day of work was Monday, and he was welcomed by Mayor Terry Hill in front of audience members at that night's regular meeting. Hill expressed his happiness about Loughry joining the staff, and Loughry said he, too, was pleased.
"I'm really glad to be here and really happy to have this opportunity," Loughry said. "I'm looking forward to serving the city and meeting the citizens of the city, as well."
Also that evening, Hill and several members of the council thanked Basehor Police Chief Lloyd Martley for all the work he did as interim city administrator. To show their appreciation, the council members unanimously approved a $3,000 bonus for Martley, who had served in the interim post since June 4.
"I can't say thank you to him enough," Hill said about Martley. "We put a lot of trust in Lloyd, and he had us to the point where we weren't really even wanting to hire someone else. It became clear very early that Lloyd Martley had a handle on all this, both as a leader and as an administrator."
Council member David Breuer also thanked Martley during his council member report.
"I think you did an amazing job, we all appreciate it, and I know you'll give Mark all the support he needs," Breuer said to Martley. "But I'm also looking forward to seeing you get a little time off."
Martley said he was equally grateful to Hill and the council for allowing him to serve as the interim city administrator.
"I thank you for this opportunity," Martley said. "It's been an enlightening experience."
The combination of police chief and city administrator produced some unique conversations, Martley said.
"I had to attend a lot of meetings and meet with people I'm not typically used to dealing with," he said. "We would talk, and it would always come around to the fact that I carry a gun. I don't think they could get used to a city administrator wearing a gun, and I never knew if people really wanted to meet me, or if they just wanted me to know who they were in case someone got on my bad side.
"It might be something Mark wants to consider," Martley jokingly suggested to Loughry.
Though he enjoyed his time in this dual role, Martley said he felt confident passing the torch to Loughry.
"I welcome Mark and gladly hand this over to him," he said. "I think he will be a true asset to the city."
Also on Monday night, the council:
• Approved, 5-0, a motion to add item E to the agenda concerning a check to Burns and McDonnell that was not paid at the Aug. 3 meeting.
• Approved, 5-0, payment to Burns and McDonnell in the amount of $21,273.23 for services on the expansion of the wastewater treatment plant.
• Approved, 5-0, contractor payments for the Wolf Creek Parkway project in the amount of $123,769.02. About $562,000 remains in the fund for the project, and Council President Jim Washington expressed his concern this amount might not be enough to finish everything. City engineer Joe McAfee assured Washington it would be enough.
• Approved, 5-0, contractor payments for the triangle land project at 150th Street and U.S. Highway 24-40, contingent on landowner Ed McIntosh turning in the title release to city attorney Patrick Reavey.
• Approved, 5-0, to schedule a public hearing concerning the city's proposed tax rebate program and existing neighborhood revitalization program at 7 p.m. Sept. 10. The public hearing will take place during the council's regular meeting that evening.
• Approved, 5-0, 2009 Standard Traffic Ordinance 558 and Uniform Public Offense Code 559. Martley explained these were standard traffic ordinances and codes published each year. One difference this year is drivers are required to turn on their headlights if they are running their windshield wipers. Martley said this was a visibility issue because cars were easier to see in the rain if headlights were on. A grace period will be granted, Martley said, to give drivers time to learn about the new ordinance.
• Conducted a public hearing concerning the 2010 budget. No comments were made and no questions asked during the hearing. The council later approved, 5-0, the 2010 budget as published in the Aug. 13 issue of the Sentinel.