New program offers spay, neuter package deals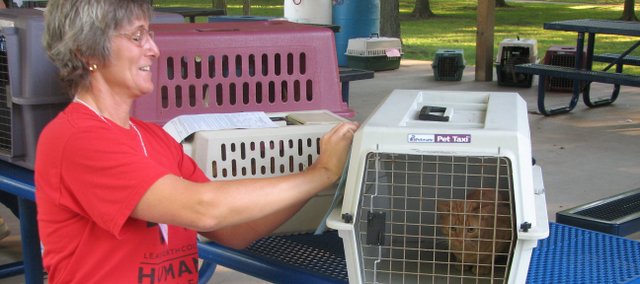 Owners of 32 pets in Basehor took part last week in a new program that offered a convenient, affordable option for spay and neuter procedures.
On Aug. 13, the participating pet owners took their animals to the Basehor City Park, where members of the Leavenworth County Humane Society and No More Homeless Pets KC were waiting. The dogs and cats were registered, then transported that day to the No More Homeless Pets KC clinic for surgery.
Each animal stayed at the clinic overnight and received a round of vaccinations if the owners so desired.
Humane society director Crystal Swann Blackdeer said she supported the program because of its ease for pet owners.
"What I like about this is they can drop (their pets) off, and they know they'll be taken care of overnight," Blackdeer said. "Then they just pick them up the next day at the same place. It's easier for everyone because we come to a fairly central location in the city that's easy to get to."
Taking a pet to a veterinary clinic for the procedure can cost $100 or more, Blackdeer said, and the price varies by species, weight and gender of the animal. For instance, a female dog usually costs more than a male dog. The humane society and No More Homeless Pets KC charged $50 for cats and $65 for dogs, regardless of gender. A slight additional charge applied to dogs larger than 75 pounds. The overnight stay, vaccinations and pain medications were included in the cost.
"We're giving people a whole package," Blackdeer said. "We think it's important for girls and boys to cost the same, and we wanted to include the vaccinations and pain meds in those packages because both are important. The animals need to feel comfortable when they get home."
Kathy Denham was one pet owner who took advantage of the program in Basehor. Without such an opportunity, Denham said she would not have been able to have her dog, Corky, fixed.
"This is a really good thing," Denham said. "My daughter-in-law saw the sign for it in Linwood and told me about it, and I signed right up. I could never afford it before, but with this I could."
A major reason for the transport program is reducing the amount of homeless pets in Leavenworth County. By spaying and neutering cats and dogs, hundreds of potential homeless, lost or abandoned kittens and puppies are saved that would have been born of those cats and dogs. Also, spayed and neutered animals are more likely to be adopted.
"Just this year we have 216 fewer homeless pets," Blackdeer said.
The spay/neuter program has already been to Linwood and will be in Easton in September, Leavenworth in October, Tonganoxie in November and Lansing in December. The schedule for those cities will keep rotating in 2010.
For more information, or to sign a pet up for an upcoming transport, call the Leavenworth County Humane Society at (913) 728-2881, or visit its Web site at lchsinc.org.