Sandstone has hot summer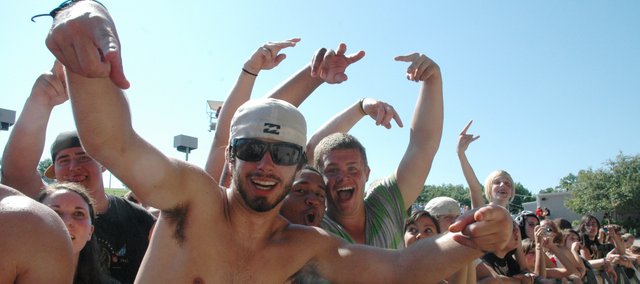 It's been a hot summer and a difficult economic climate, but Capitol Federal Park at Sandstone is still drawing crowds of music lovers, just as it always has.
"I think that we've been extremely pleased with the show count, the quality of the shows and the attendance that we have had this year, especially in light of the difficult economy we're working in," said Sandstone general manager Kevin Pew.
In its second year of operation under new management and with an updated look, the outdoor music venue, Pew says, is having a better 2009 than 2008.
"Overall we're feeling more confident about our year," he said.
Musical acts during the summer have included The Killers, O.A.R., the Vans Warped Tour and Kid Rock, the latter of which Pew said has drawn the largest crowd to date. He said the Warped Tour, on Aug. 4, was close to being the most successful one Sandstone, a regular stop for the Warped Tour every year, has seen.
"We had the second largest attended Warped Tour in the history of the venue," Pew said. "The Warped Tour's done a really good job of cost-controlling on their tickets. The kids out there realize it's a good value for their money, and it's an opportunity to see a lot of bands in one place, and they really try to take advantage of it. The Warped Tour gives them an excellent bang for their buck."
Though Pew said he hasn't seen a decline in the number of audience numbers, he said one reflection of the economy is that more people are purchasing their tickets early to take advantage of specials rather than waiting until the last minute. But tickets are still being sold, and Pew says it's not just because of the music, but also because of the steps Sandstone has taken to make the venue a place people want to be, regardless of the amount of money in their wallets.
"I think that we really tried to capitalize last year on taking the amphitheater in a green direction," Pew said. "I think that our national recognition has gotten more prominent. We've had great response to the change in the seating configuration. We removed a little over 2,000 seats in front of the stage. In regards to anything else, we've just really tried to increase our customer service awareness and really give fans more of that warm and fuzzy feeling if you will; that this is a good place to come and enjoy shows and they should keep us in mind for future events."
Pew said there hasn't been much planning for next year yet, as the main focus is getting through the current summer season. But, he said, when booking shows for next season, consideration will be given to bringing in popular acts at reasonable prices.
"We want to make sure that we're offering the best show that we can for the right price," Pew said.
For now, Sandstone is getting ready for its final show of the summer, the 96.5 The Buzz Beach Ball event, featuring Weezer and Blink-182.
"I think that it's going to be hugely successful and an excellent show to close our season," Pew said. "With the Blink-182 and Weezer package coming in, as well as all the other bands that are highlighted on the bill, it's gonna be a great day for people to come out and hang and enjoy some really great music."
96.5 The Buzz Beach Ball will be Friday, Sept. 4. Tickets are available through all Ticketmaster outlets.