Students return for 'new adventure'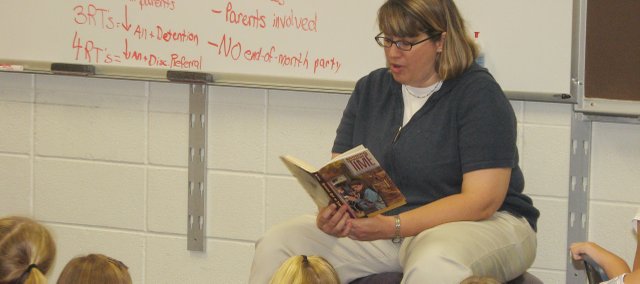 Photo Gallery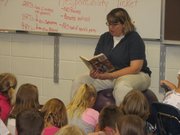 Basehor-Linwood goes back to school
Students in the Basehor-Linwood school district went back to school Aug. 13 and Aug. 14.
Students in the Basehor-Linwood School District are almost finished with their first full week of school, and the year is off to a pleasant start.
Students in grades kindergarten through nine went back to school Aug. 13, and Basehor-Linwood sophomores, juniors and seniors returned to class the following day, Aug. 14.
Basehor-Linwood assistant superintendent Mike Boyd said both first days were quite positive at all five of the district's schools.
"It went very, very well," Boyd said. "We really didn't have any problems, and things went very, very smoothly."
Boyd said he, director of curriculum and instruction Sandra Guidry and superintendent David Howard visited the schools on Aug. 13 and Aug. 14 to observe operations.
"We stood around and watched how everything was going and talked to people, and it was going really well," Boyd said.
Enrollment numbers for the district are up this year, the effects of which were felt slightly while students began school.
"We did have some issues with traffic because we have more people dropping off than we used to," Boyd said. "But that's something we're working on, and we'll figure it out."
Basehor Elementary School was experiencing some growing pains from larger student numbers. Principal Teri Boyd was busy throughout that afternoon trying to situate and find room for new students who trickled in after the morning bell. Despite the day's occasional hectic nature, she said students and teachers had a positive experience.
"Things have been going really good," Teri Boyd said on the school's first day. "Lunch was pretty crazy, but that's to be expected. It will get better."
Glenwood Ridge Elementary Principal Jan Hancock said Glenwood also had a great beginning to its school year.
"The day was filled with new faces, new clothes, new supplies and a new adventure." Hancock said. "The students practiced routines and procedures that will help them throughout the school year. It was a day filled with promise and potential."
Glenwood had the added advantage of a new addition to the building, which provided more room for an increasing student population.
"Thanks to the construction project, kindergarten students, along with fourth- and fifth- graders, entered a brand new addition," Hancock said. "All students will enjoy the renovated art room and classrooms. The extra space was greatly needed and appreciated."
Those working at or attending Basehor-Linwood High School are happy to be back after the summer, principal Sherry Reeves said.
"The beginning of the school year has gone extremely well," Reeves said. "The students and staff are excited to be back in the building and looking forward to having a great year."
Reeves said one of the highlights to this year's start is the high school's introduction of some new students from different countries.
"We are fortunate to have four exchange students with us this year," Reeves said. "Julia Sturm is from Germany and is in the sophomore class. Three of the exchange students are in the senior class: Chris Hohenstein from Germany, Angie Ocampo from Colombia and Mara Fossati from Italy. This is a wonderful opportunity for our students to interact with peers from other countries and experience the other cultures."
Overall, the 2009-2010 school year in Basehor-Linwood was launched successfully, Mike Boyd said.
"We're pleased with everything," he said. "I haven't heard anything negative with the starting of the year."