5 questions: Fair reporting
Board president talks attendance, fair's future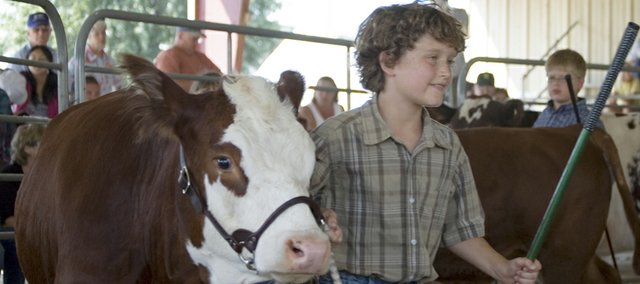 David Todd, president of the Leavenworth County Fair board, discusses this year's county fair.
Q: What was attendance for this year's Leavenworth County Fair?
A: This is a guesstimate based on parking figures. It was somewhere around 21,500. That's a good year. Normally we average between 19,000 and 21,000. Last year was an exceptional year. We had more than 30,000. I think what hurt us was the rain on Saturday. I don't blame people. A lot of people stayed home.
Q: What were individual events reporting about this year's attendance?
A: The demolition derby was off a little bit. It was really off in the back with the cars. For a lot of people, it's the economy. A lot of people aren't doing it this year. They can't afford it. There's usually between 60 and 70 cars altogether, but they told us they were down everywhere. But we still ended up with 21 large cars and a dozen compacts and still put on a pretty nice three-hour show for everybody.
The Mud Run was a very popular event. Again, the weather played a large part in that. It was such a nice night.
Each night attendance was up at the carnival until Saturday. And, of course with the rain, that affected it. They can operate in light rain and won't operate if lightning is in the immediate area. We were fortunate the lightning and the storms stayed away.
Q: Is anything new planned for next year's fair?
A: We are negotiating with the Shriners. It is very possible next year instead of a rodeo we will have a bull buckout and the Shriners will have the lead on organizing that. At this point, it's a lot of discussion toward working out a partnership between both sides. If that falls through and we don't get it put together, we'll come up with something.
Q: Do you have any plans to address traffic?
A: In regards to traffic, we started the auction a half-hour early ahead of the Mud Run. We still had heavy traffic coming into the fairgrounds, but it was much better than last year. We're looking at how to get a second entrance into the fairgrounds.
Q: When will next year's Leavenworth County Fair take place?
A: It will be Aug. 10-14, 2010. The fair board meets at 8 p.m. the third Monday of each month at the fairgrounds, excluding August. As far as actual planning and rolling toward next year, we don't really get hot and heavy into that until January.