Basehor runners battle for positions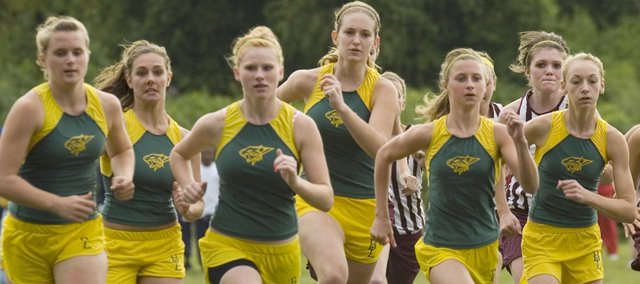 Runners on the Basehor-Linwood cross country team have got to earn varsity spots this season.
But nothing is guaranteed.
Varsity spots will be decided by time trials on Friday, and the runners who finish with the best times will qualify for a spot in the varsity lineup.
Coach Jeff Venema has an idea of what might happen in time trials, but he is taking a wait-and-see approach to see what runners will fill out his varsity roster.
So far, he has been pleased with the way his team has answered the challenge.
"It was a real good first week," he said. "It went well. We worked hard and our runners pushed themselves. We won't know until the time trials at the end of this week what our varsity team is going to be. That will let us know officially who is where. It has been a great group effort this week and I am excited to see where they finish."
While Venema is careful to say there are no guarantees, BLHS returns three senior letterwinners on the girls' side that have provided excellent leadership. Kayla Peterson, who qualified for state last season, holds the school's record in the 3,200 meters in track and has been impressive so far.
"She does not appear to have lost any speed," Venema said.
Megan Rehm is returning for her fourth year of running in the program. Casey Mahoney is the team's other senior.
"I have been pleased with the effort that they have given us," he said. "We will hopefully build on that in the weeks to come. I hope they do. They are good seniors and have a good attitude about trying to get better."
Another top returner is sophomore Hannah Tush, who figures to run well this season. Tush was injured last cross country season and missed a significant amount of time after getting off to a strong start.
On the boys' side, Wyatt Kelly is running well early in the season after a strong summer of training.
"He is in great shape to be one of our best runners on the guys' side," Venema said. "We have five junior boys who are going to have a say about how we do."
The team also has more coaches this season. Mike McBride returns as an assistant coach for the team. In addition, Kyle Norris and Ryan Bolling are student teaching at BLHS and are assistant coaches for the program.
"They have done a great job for us early in the season and should make a difference for us," Venema said.
Time trials are on Friday, capping a busy two weeks of practice. Basehor-Linwood will play host to the first meet of the season on Thursday, Sept. 3, at Wyandotte County Park. This is the second year for the meet.