Bobcats try to set positive tone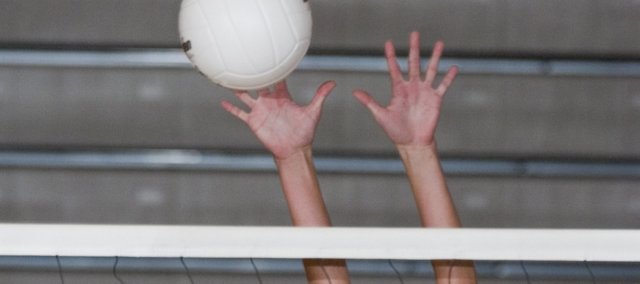 Volleyball players on the Basehor-Linwood varsity team received a simple message from coach Tammy Zydlo after tryouts concluded last week: Nice job making the team, but don't let up now.
The high energy that they played with in three days of practices has to continue, Zydlo said.
"Tryouts can't be the best three days that you play all year," Zydlo recalls telling the team.
Players have taken those words to heart. The team's five seniors have provided leadership this season, keeping players on task and helping teammates that might be struggling physically and mentally during practice.
During one practice last week, Zydlo put the team through extensive running drills designed to see whose level of performance would suffer as a result of being tired. As the drills ensued, seniors and juniors on the team encouraged underclassmen to keep going.
"When you have that leadership, it is contagious for other girls," Zydlo said. "Younger girls see what it is like to be a good leader."
Other parts of leadership occur after practice; players compliment their teammates at the direction of Zydlo.
"The seniors are always talking about the great things younger players have done," she said. "A lot of them are not waiting for a compliment to be given, but they are willing to give a compliment. We try to have a positive atmosphere. We want to end on a positive note."
Zydlo said she sees a lot of positive signs on the court as well. The varsity roster is full of capable outside hitters.
"We can definitely put the ball on the floor," she said. "We seem to be consistent with our hitting. We will run against teams with big blockers, but we are learning as we go how to hit around the block, being able to see the block and hit around it."
Basehor-Linwood is working on passing the volleyball on offense, which will be pivotal as setters work to set the ball for an outside hitter.
Cassie Bever, Courtney Hooks, Shelby Equels, Courtney Poe, Sydnee Erickson, Cheyenne Taylor, Tara Chumley and Cara McCarty are expected to serve as outside hitters this season.
"I have several options," Zydlo said. "I have been very impressed with how we are placing the ball."
In addition to those players, Macyn Sanders is the team's setter and Taylor Johnson is playing the libero position.
The regular season begins Tuesday at Eudora in matches against Eudora, Baldwin and Bonner Springs.
"Tonight we ended at 5:30 p.m., I told our players 'one week from tonight, we will be battling.' We are lucky in volleyball that we have two weeks and then are able to start competing," Zydlo said. "As we get closer to game time, we will be figuring what the starting lineup is going to be."
Basehor-Linwood also plays at Olathe Northwest on Sept. 3. The team's schedule has a few changes from previous seasons, with matches scheduled during the week against Mill Valley and Maranatha Academy. Basehor-Linwood did not play Mill Valley last season.
The team also will play in the Louisburg Tournament on Sept. 26, which is a first for the program.
This is a fun part of the season, when everything is new and the rigors of a competition and practice schedule haven't set in, Zydlo said. September will be a busy month and attitude will play a role in the team's success.
"September is a busy month for all three teams (varsity, junior varsity and freshmen)," she said. "That is why it's really important to stay the course. I am just so anxious to see how the team does. I expect big things."