City remembers friend, helper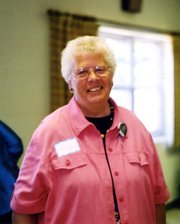 The Basehor community said goodbye to one of its most devoted helpers Aug. 21 at the memorial service for Nola Mae Cooper.
One of Cooper's most notable contributions to the city is the bright blue and yellow seal that represents the city of Basehor. About 20 years ago, the city orchestrated a contest to obtain a new design for its emblem, and Cooper was the proud winner.
Nola Cooper's artwork can still be seen standing boldly behind the bench at Basehor City Hall, on the city Web site and on hundreds of city signs and letterheads.
People in Basehor, though, remember Cooper for her service to community organizations even more than creating the seal. She spent most of her adult years volunteering with the Basehor Veterans of Foreign Wars, the Gold PRIDE group, Basehor Booster Club and YouthFriends, among others.
VFW Commander Fred Box said Cooper was one of the people the VFW consistently relied upon to keep its functions running smoothly.
"She helped a little with just about everything," Box said. "She really liked to help wherever she could."
Gold PRIDE member Frances Rake said Cooper was the same way with PRIDE, contributing however possible.
"She was always ready to help wherever she needed to be," Rake said. "She was so graceful. She was a wonderful person, and she will certainly be missed."
Not only was Cooper loyal to her various groups, she was also a committed mother. Cooper's daughter, Rinda Cooper, said she remembered her mother attending her track practices.
"She would sit up on top of the bleachers with her big straw hat and watch me practice," Rinda Cooper said. "At the time, I thought it was so embarrassing, but she was always there. Not many other kids' parents came to all of those. I don't think she ever missed a game."
Nola Cooper doubled as cheerleader and coach. Rinda Cooper said her mother was her softball coach for many years, and she conducted games and practices with an impartial hand.
"She was very fair," Rinda Cooper said. "She encouraged us, and she played everybody. No one sat on the bench all the time. She played everybody, and she was like that about everything. She never said a bad word about anyone. She wanted to encourage people to do their best."
All of Nola Cooper's work and efforts in Basehor seem extraordinary to most of the people who surrounded her, but Rinda Cooper said these accomplishments were quite ordinary to her always-humble mother.
"She never really thought anything she did was a huge deal," she said. "She never gloated. To her, she was just doing what she was doing and what she enjoyed. I know a lot of people appreciated her and loved her, and a lot of people miss her."