Basehor Elementary prepares move to new building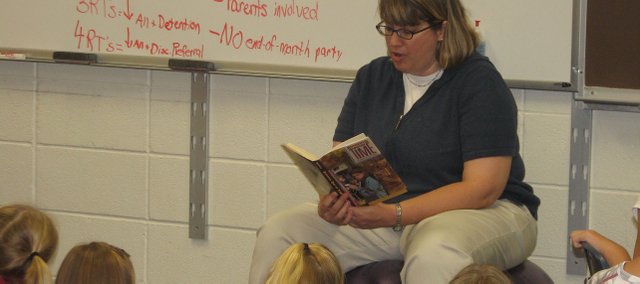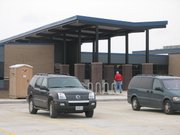 After several years coping with the growing pains of an expanding school district, Basehor Elementary School is about to get some breathing room.
At the end of Christmas break this year, students in grades third through fifth will move into USD 458's newest building off 155th Street, across from Basehor City Hall.
The area surrounding the students' soon-to-be school has certainly changed since the October 2008 groundbreaking ceremony when Jerry and Ruth Mussett were recognized for their immense contribution to the Basehor-Linwood School District.
The couple donated 10 acres of farmland to the cause of building the new school. The land had been in Jerry Mussett's family for 65 years, and he and his wife decided in 2007 to hand it over to a district that had already seen three generations of Mussetts through school.
With only a month left to prepare, Basehor Elementary School Principal Teri Boyd seems to have thought of everything. She and the school's staff and faculty have formulated a plan to try to achieve a nearly seamless transition.
At the November Basehor-Linwood School Board meeting, Boyd told board members about the plan, which will allow all the students to physically move into the new building at the same time.
"The students start school on Jan. 6, and they will all go to Basehor Elementary, like usual that morning," Boyd said. "After attendance and lunch count, they will all be bused over to the new building at once."
The teachers, students and staff at Basehor Elementary will be outside on the first day to send off the third-, fourth-, and fifth-graders, while the intermediate teachers and staff will be at the new school, waiting for the students and waving them inside.
"It will be something they remember for a lifetime," Boyd said of the experience.
Students from each of the moving classes have already toured their new school, and Boyd said it was an extremely enjoyable event.
"Let me tell you about excitement," she said. "Those kids are just in awe about what they're going to have."
The trip also included placing a time capsule into one of the building's walls that will soon be decorated with a plaque commemorating the occasion.

To allow teachers some time to pack, Boyd said she had arranged three "buddy days" at the end of the month, during which third- through fifth-grade classrooms will pair up with different grades and classes for a few hours of activities. This will give teachers added time alone in their rooms to get everything in order.
BES teachers have been consistently talking with their students about the move and what it will mean.
"My students are counting the days until their big move," fourth-grade teacher Jayne Denny said. "We have had many classroom discussions about how fortunate we are to be the first class in a brand new school, and I have only heard positive comments from the students."
Denny also said she believed changing schools, while scary at first, would ultimately teach her students an important lesson.
"It is healthy to learn to embrace change when one is young, and to look towards the positives of transition," she said. "I hope to teach my students the value of this lesson, and we will enter (Basehor Intermediate School) with lots of smiles and eager anticipation."
Fifth-grade teacher Michelle Ablard has also encouraged her students to share their thoughts and feelings about the new school.
"We talk about the new building on an almost daily basis," Ablard said. "The items that have received the most attention are the playground equipment and the new Promethean boards. They are very excited about both of these."
Informational letters have been sent to the families of the moving students, Boyd said, explaining what will take place on the first day and how parents can help the process run smoothly.
For more information, contact the office at Basehor Elementary School at (913) 724-1038.