BSHS

wrestlers eye big year under first-year coach Jobe
There is not a lonelier feeling in the world than standing in the middle of a wrestling mat going against a guy that is the same weight as you and probably knows every move that you have in your arsenal. The difference in the outcome oftentimes comes down to determination and preparation.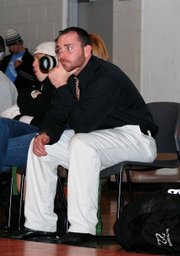 That is where first-year Bonner Springs coach Brandon Jobe hopes to make a difference with his Braves heading into the 2009-2010 wrestling season.
"In practice, I expect our guys to give 100 percent in everything they do," Jobe said. "I expect them to improve and get better every day. If they take care of this, winning will take care of itself. During matches, I expect them to compete to the best of their ability … wrestle to win."
Wrestling is in Jobe's blood. He began wrestling when he was 5 years old and has been involved in the sport ever since. He wrestled at Piper High School, and then moved on to Labette Community College in Parsons where he wrestled for two years. After finishing his community college requirements, he transferred to Fort Hays State University and wrestled there.
After his college eligibility was exhausted, he stayed on board as a member of the Tigers' coaching staff for four years. In the summer, Jobe is involved with Freestyle and Greco Roman wrestling clubs.
Aside from former coach Dan Burns leaving the squad to spend more time with his family, four of last year's state qualifiers are gone too. Tanner McCleary (285 pounds), Anthony Ellingsworth (171) and Adam Shirley (145) each graduated, and senior Brooks Ballou (125) chose to use this winter to train for track.
Thankfully for the Braves and Jobe, junior Caleb Seaton is back. He is a two-time state medalist and is considered a contender for the state championship.
"Caleb is an extremely talented and exciting wrestler to watch," Jobe said. "I have been very impressed with him so far, but he still has room to improve. He has all the right tools to be successful, and I hope to fine-tune some of his techniques, positioning and mental toughness. My expectations for Caleb are extremely high."
Seaton is the most experienced wrestler, but Jobe is concentrating on bringing the rest of the Braves to the highest level that he can.
"I have been meeting with each athlete on our team individually and have asked them their goals for the year," Jobe said. "Some have goals to be varsity, some want to qualify for state, place at state or be a state champion. I have different expectations for each guy on the team. (They) are working extremely hard right now towards reaching their goals. If they give 100 percent in everything we do and improve every day, great things will happen."
Even though the Braves lost some talent from last year's squad, Jobe expects his incoming freshmen to make an immediate impact. Apart from being talented, he sees natural leadership in some of the youngsters.
"I am extremely excited about this year's group of freshmen. Many of them have years of wrestling experience, and have been successful at the (middle school) state level," Jobe said.
Jobe expects big things from freshmen Justus Seaton, Jonathan Blackwell, Aaron Puckett and Jared Clements, who all placed or won state titles in eighth grade. He expects other freshmen to challenge for varsity positions as the year progresses.
Perhaps the biggest challenge for Jobe will be the adjustment to high school coaching responsibilities compared to the rigors of college coaching.
"When the athletes came to Fort Hays, they already had a solid wrestling background, and had been hand-picked by our coaching staff," Jobe said. "At the high school level, we have wrestlers that have never wrestled before and guys that have been wrestling their entire lives. I'm trying to find the middle ground so I can reach each athlete individually."