Shorthanded
BLHS

wrestlers open season against Bonner, Piper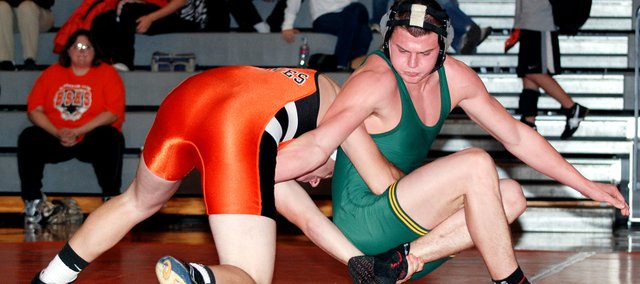 The Basehor-Linwood wrestling team took just eight varsity wrestlers to its season-opening duals Tuesday night at the Bonner Springs YMCA, making team scores irrelevant.
Photo Gallery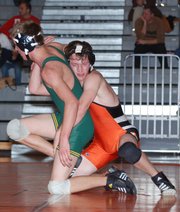 Tuesday night wrestling dual
Bonner Springs, Basehor-Linwood and Piper squared off in the season-opening wrestling duals on Tuesday, Dec. 1, at the Bonner Springs YMCA.
The shorthanded Bobcats — four varsity regulars stayed home with ringworm — competed well, though, despite falling to Piper, 53-28, and Bonner Springs, 39-30.
First-year coach Ed Seaton said the duals were a good opportunity for his team to focus on its fundamentals before the schedule picks up.
"We're just trying to stick with the basics," he said. "We're trying to keep it simple, we aren't showing anything fancy, just trying to score points like you'd see the college level kids do ... takedowns, escapes, that's what we're asking of them."
No Bobcats were more effective than Joe Johnson and Symon Seaton the first night out. Johnson went 2-0 at 171 pounds as he defeated Piper's Kevin Palmer by major decision, 10-0, and Bonner Springs' Brian Callahan by an 8-2 decision.
"He had some really nice shots and some really nice set-ups. He really pushed himself when he was tired, I thought," coach Seaton said.
Meanwhile, 130-pounder Symon Seaton pinned Piper's Brett Kaberlein in the first period and then earned a hard-fought 6-1 decision against Bonner Springs' Jonathan Blackwell.
"I've gotta give credit to Jonathan Blackwell. He wrestled a heck of a match. It was obvious Symon was a little bit winded, so we'll have to work on that," coach Seaton said.
Other Bobcats who won matches Tuesday were 125-pounder Preston Farris, 135-pounder Tyler Simpson, 140-pounder Derek Pike, 145-pounder Dustin Williams and 215-pounder Zach Roberts.
BLHS next competes at 9 a.m. Saturday at the Kaw Valley League Dual Tournament at Turner High School. The Bobcats face reigning Class 5A state runner-up Lansing in the first dual of the day.