State board gives
OK

to casino at Speedway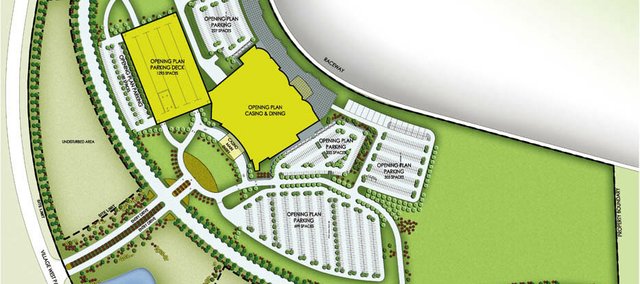 For the second time, the Kansas Speedway has been chosen as the site for a state-owned and operated casino in Wyandotte County.
The Kansas Gaming Facilities Review Board on Monday unanimously approved, 7-0, a proposal for a $386 million Hollywood casino overlooking Turn 2 at the Kansas Speedway.
The casino will be managed by the group Kansas Entertainment, which was formed through a 50/50 partnership between the Kansas Speedway and Penn National Gaming, of Wyomissing, Pa.
"We're pleased with today's decision by the Kansas Lottery Gaming Facility Review Board," said Jeff Boerger, Kansas Speedway president. "This exciting decision will allow us to petition NASCAR to bring a second NASCAR Sprint Cup Series date to Kansas Speedway and continue to make Kansas Speedway one of the top motorsports facilities in the country. We look forward to continuing our great relationship with the state of Kansas and the Kansas Lottery throughout this project."
The 100,000-square-foot casino proposal calls for 2,300 slot machines, 86 table games, a lounge and various dining and entertainment options. The Kansas Speedway has anticipated the facility to have 4.3 million people visit annually and to generate $225 million in gaming revenue during its first year of operation.
Additional phases will include a hotel, expanded gaming space, a spa, convention center and entertainment retail district.
The decision came after months of meetings and presentations that included ups and downs.
Last year, the review board selected Kansas Entertainment LLC to manage a Hard Rock casino at the Kansas Speedway, but Kansas Entertainment withdrew its application on Dec. 5, 2008.
Citing economic struggles, the group resubmitted a less-aggressive Hard Rock casino proposal when the Wyandotte County bid came open again in 2009, but again, it was not meant to be for the partnership of Kansas Entertainment and the Kansas Speedway.
In September, an announcement was made that Penn National Gaming, which had originally submitted its own bid for a Hollywood casino to be located near the new Schlitterbauhn Waterpark, bought out Kansas Entertainment, forming a new partnership with the Kansas Speedway.
Kansas Speedway and Penn Gaming will now be subject to a background investigation, which will then lead to licensing by the Kansas Racing and Gaming Commission. Both are expected to be completed in early 2010.
Construction of the Hollywood-themed facility will begin in the second half of 2010, with a planned opening in the first quarter of 2012.
"We are grateful for the Kansas Lottery Gaming Facility Review Board's selection of Kansas Entertainment to develop a distinctive entertainment facility in Wyandotte County and are excited to bring new jobs, tax revenues and sustainable economic benefits to the region," said Peter M. Carlino, chief executive officer of Penn National. "Both Penn National Gaming and International Speedway Corporation are committed to the long-term success of our planned first-class destination resort and to the long-term economic success of this project in Wyandotte County and the state of Kansas."