Tree farmer shares life-long passion with community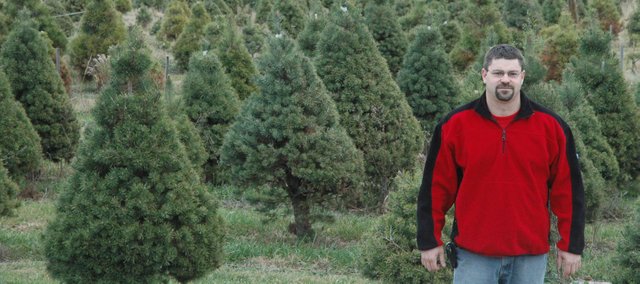 Brian Bierman knows Christmas trees. And he should, because he's been working with them for 21 years.
What started as a child's part-time job at what was once one of Kansas' largest Christmas tree farms turned into a life passion. Bierman learned the ropes starting at age 13 and was the easy choice to be left in charge of the Kansas City legacy that was Warren's Christmas Tree Farm, once located at 159th Street and Quivira.
With a name and location change, Bierman has now started the fifth season at his own Christmas tree farm, located now at 2825 S. 63rd St., Kansas City, Kan.
"I really enjoy it. It's the love of the tree," Bierman said about what's kept him in the business for so many years.
Bierman's Christmas Tree Farm, with its old-fashioned Christmas tree experience, officially opened the Friday after Thanksgiving. The farm will remain open from 9 a.m. to 6 p.m. Saturdays and Sundays through Christmas, Dec. 25.
Bierman said he was also trying something new this year when it came to the farm's operating hours. People will be able to come get a tree from 1 p.m. to 5 p.m. during the weekdays until Dec. 11. During those hours, there will be no other activities available besides picking a Christmas tree.
For those looking for the entire experience, the weekends will offer a Christmas fantasyland for families that Bierman said is hard to find anywhere else.
What sets Bierman's trees apart from many other places, he said, is the freshness that comes from the trees he offers. Those who visit Bierman's Christmas Tree Farm can walk among acres of trees and pick the best fit for them.
"You can go to the hardware store or the grocery store to get a tree," Bierman said. "But when you come out here, the variety is so much more."
All of the trees Bierman grows, which include Scotch and Austrian Pine, are then hand-shaped. While other farms may use a machine that shapes the "perfect" tree, Bierman says he prefers to do the task by hand, making each tree unique.
"Every tree has a different personality," he said.
Bierman's farm does offer a few pre-cut trees that are shipped in from Wisconsin, because Bierman says Kansas soil is not good for growing the Fraser Fur — his number one seller — or the Balsum Fur.
To ensure the freshness of the pre-cut trees, however, Bierman tarps the trees to protect them from the elements, something he says is often forgotten at other Christmas tree establishments.
After picking the perfect tree, for $2, a family can either take a sleigh or train ride around the farm. Both the train and sleigh were built by Bierman's father, Ron Bierman, as an extra touch for the farm to get people in the holiday spirit.
Inside, visitors can enjoy free hot chocolate and cookies while they shop for Christmas decorations. Among the top choices are Bierman's fresh wreaths that are all made and designed at the farm.
With holiday themes that range from traditional to contemporary, Bierman's offers a variety of wreaths that come in circle, candy cane, star, snowflake and tree shapes.
An assortment of other children's activities is also available as visitors can explore the grounds for holiday fun.
"You can go anywhere to buy a tree," Bierman said. "We're here to sell trees, but that's not our main objective. We sell the whole (Christmas) experience."
It takes hard work to create that experience, but Bierman says it's worth it.
Bierman works 50 hours a week at Standard Motor in Edwardsville, and puts in another 30 hours at the Christmas tree farm. From April to Christmas, Bierman said his life may be busy, but he can't give up a dream that started at age 13.