Fort Leavenworth's new commander announced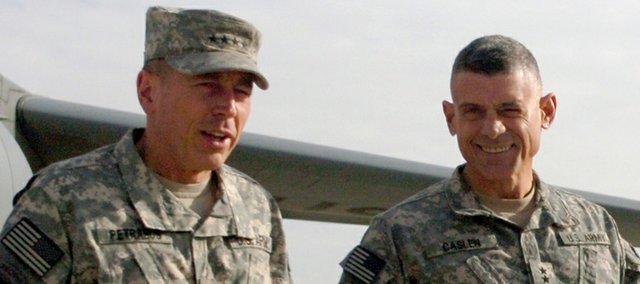 President Barak Obama's pick to be the next commander at Fort Leavenworth brings with him a generous mix of battlefield and academic experience.
Maj. Gen. Robert L. Caslen Jr., who currently is commanding general of the 25th Infantry Division, Schofield Barracks, Hawaii, was nominated by Obama to the rank of lieutenant general and for appointment as commanding general, U.S. Combined Arms Center, Fort Leavenworth.
Caslen would succeed Lt. Gen. William Caldwell IV, who left Fort Leavenworth in October to become commander of the newly established NATO Training Mission-Afghanistan headquarters.
Caslen has been commanding general of the 25th Infantry since May 2008. As part of his command with the 25th Infantry, he also was commanding general of multinational forces in northern Iraq from December 2008 until November 2009.
He also has served with the 101st Airborne Division in Operations Desert Shield and Desert Storm, with the Joint Task Force in Operation Enduring Freedom in Afghanistan and as deputy director for the War on Terrorism with the staff of the Joint Chiefs of Staff in Washington, D.C.
From 2006 through mid-2008, Caslen was commandant of cadets at the U.S. Military Academy. Caslen is a 1975 graduate of West Point. He also earned a master's degree in industrial engineering from Kansas State University, an MBA from C.W. Post and attended both the Command and General Staff College at Fort Leavenworth and the U.S. Army War College at Carlisle Barracks, Pa.
Caslen came under fire in 2007 after it was determined he and six other military officers improperly participated in a promotional video for an evangelical group called Christian Embassy.
The Department of Defense
Related document
inspector general found the seven officers violated rules by giving the appearance of governmental sanction to the Christian group, and did so while in uniform.
Caslen and another general "accepted full responsibility for their actions and committed to be more alert to ethical issues in the future," the report said.
A spokesman at Fort Leavenworth said there was not yet an established timetable for Caslen's arrival at his post in Kansas. Caslen first will have to go through the nomination process, which includes a confirmation vote by the U.S. Senate.