4-H Club donates more than 500 pounds of food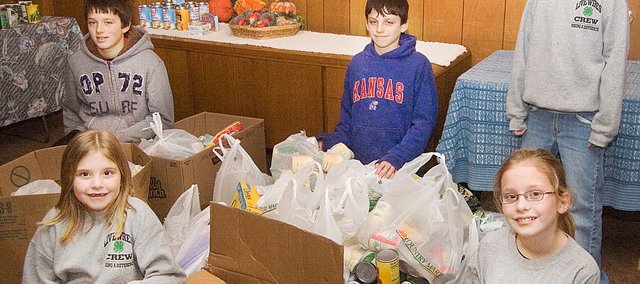 The Livewires 4-H Club of Jarbalo wanted to show just how thankful they were this holiday season by giving back.
On Nov. 25, six of the seven members of the club's holiday basket committee, dropped off more than a quarter ton of nonperishable food items they had collected for the Good Shepherd Thrift Store and Food Bank.
"We weren't really expecting that much food," said Carl Hecht, chair of the holiday basket committee. "It was just kind of cool to see everybody contribute just a little bit and get that much."
The group went to B&J Country Mart three times to collect food. In addition to the 550 pounds of food items, the group also collected $100 in cash donations, which matched the group's own $100 donation.
"Some people just walked by, but most people were pretty nice and gave something," Hecht said.
He said he wasn't sure what they would do next year, but they would consider having the food drive again.
Also on the committee are Rachel Sparks, Brittany Ancil, Lane Hecht, Hanna Sparks, Brea Wingerter and Mykah Wingerter.
Carl Hecht said he wanted to thank everybody who contributed and B&J Country Mart for their support.