BSHS

club's goodwill to benefit the community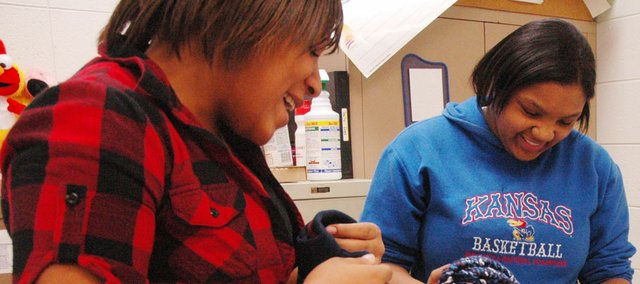 When Linda Orangkhadivi arrived at her classroom door Tuesday morning, she was greeted with seven plastic bags filled with hats, gloves and scarves.
The generous donations were the kicking-off point for the Bonner Springs High School Kayettes winter clothing and food drive.
"We hope to benefit the community. Our own community," said Kayettes member Paige Hinson said of keeping the club's service projects local. "We really try to focus on the people around us."
The BSHS Kayettes, which is part of the Kansas Association for Youth, will be collecting winter clothing and food items all week in an effort to give back to the community. The clothing items gathered will be donated to the Lula Belle Mission Center at Pleasant Hills Baptist Church, and the food items will be given to Vaughn-Trent Community Services.
BSHS has been collecting food for Vaughn-Trent for more than 30 years, Orangkhadivi, the Kayettes' faculty sponsor, said. It's the members of Kayettes job to promote the drive and get their peers interested in donating.
"We just tell them it's fun, and they all want to join in," said Kayettes member Bridgett Bradley.
The club is also no stranger to collecting winter clothing, but each year, club members pick a new organization to receive their collection.
"We just tell (our peers), 'don't do it for something you get out of it. Do it because of the cause and because you want to help somebody,'" Hinson said.
Area community members in need won't be the only ones benefiting from the Kayettes efforts. An incentive for students and teachers has also been created to gain people's interest in donating.
If the club raises $2,500 in monetary and food donations — with two food items equaling a dollar — the BSHS teachers will be allowed to wear jeans for the week, and students will be allowed to wear hats.
In addition to collecting clothing and food items, the club has decided to adopt a family for the holiday season.
"I've already bought formula and diapers for the family," said Hinson, with obvious excitement for the project.
While both Hinson and Bradley admit being a member of the Kayettes will look good on college applications, they can't help but be proud of the service they give their community.
"It is helping people," Hinson said. "I want to get out there and help the community. If I were in their same situation, I would want somebody to help me."