Wristen: For Leppke, reward comes four years later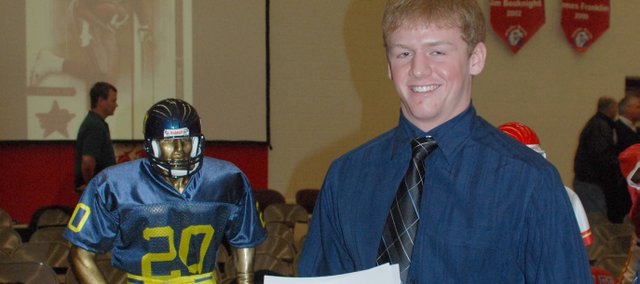 OLATHE — Basehor-Linwood football coach Steve Hopkins has told the story dozens of times before, but on Tuesday it was worth reliving once more.
It's the story of Brandon Leppke's first varsity football game.
It was Friday, Sept. 8, 2006, during his freshman year at BLHS. It was week two of the season against Mill Valley, and Hopkins saw an opportunity to give the talented newcomer a chance.
Shortly after entering the game at quarterback, Leppke was leveled off of his feet by a Jaguar defender. Woozy, he came to the sideline. After a quick break, he gathered his wits and ran back out for more.
"Well, you get out there as a freshman, and those guys are huge," Leppke says. "We actually ended up scoring on that drive, and that kind of gets you back into the mindset that 'OK, we can do this.' A lot of the older guys really took me under their wing and carried me through that."
Upon reentering the game, Leppke connected with tight end Jacob Schierbaum for a 35-yard touchdown.
The touchdown was Basehor's only score in a 42-8 loss. Leppke made his debut as a dual-threat quarterback and led the team with 50 rushing yards.
"That's the 'where you come from' story of it," Hopkins recalls with a grin. "There is that moment when you're just 14 years old and you're thrown into the fire, and the strong survive and the weak disappear. It would've been very easy for Brandon to say 'That's not fair for you to do that to me.' We had that talk before we put him out there, we talked to him and I said 'I want you to understand we know this is going to be difficult, but we see a payoff.'
"He never lost sight of the payoff. He never lost sight of what's hard now will never be easy, but it'll be a reward later. That's what's so neat about that story."
The end of the story — and the reward — came at the Simone Awards ceremony Tuesday morning at Olathe North High School. Leppke was one of four finalists for the Fontana Award, which goes to the top small-class player in the Kansas City metro area.
His resume was as impressive as just about anybody else's — he rushed for 1,632 yards and 18 touchdowns, threw for 1,391 yards and 20 touchdowns and led his team to an 8-2 record. Of the four Fontana finalists, he was the only one from Kansas.
University Academy quarterback Darreen White won the award, but Leppke said he simply was humbled to be included.
The nomination, Leppke says, is a tribute to the guys he plays ball with. Many of them — including some of his fellow seniors — shared the field with him that fall evening in 2006 when he took his first varsity licks and changed the face of Basehor football.