Public works ready for winter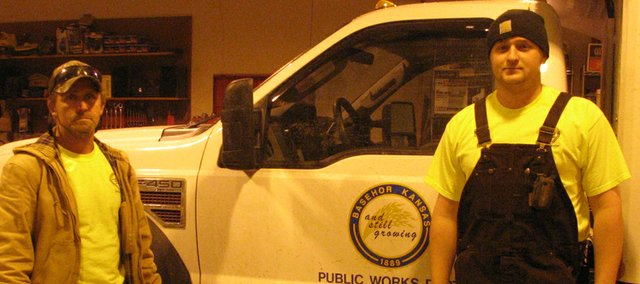 During a time when much activity slows down, the Basehor Public Works Department is full steam ahead with winter street services.
Winter presents the public works employees with extended hours, including many late nights and early mornings each year, a condition the department begins to prepare for during the summer.
Basehor City Superintendent Gene Myracle said public works generally commenced winter planning in August to make sure it was ready for the blustery season ahead.
"We start off in August pricing salt, then purchase it in October," Myracle said. "Then we haul sand and store the material."
Also during the months before November and December, the workers check all their equipment, like plows and spreaders, and fix any existing problems before snow and sleet commence.
As soon as the first flakes begin to fall, public works knows its work pattern is about to change dramatically. Myracle said because most storms make an appearance at night, street workers have to spend many evenings away from home, clearing roads or laying sand and salt.
On a typical snow day, workers will go home during the early evening, depending on the location of a storm, and return to work at about 2 a.m. or 3 a.m., Myracle said.
"Usually we let the storm develop with three inches of snow prior to plowing, or in an ice or sleet storm, we start applying material as soon as possible," Myracle said. "The city of Basehor does not have the equipment to liquid pretreat the roadways like the state or larger cities have, so we start with a sand and salt combinations, depending on conditions and temperature. Once the storm is ending and staff has treated all streets, we then have to perform all maintenance and service equipment to be prepared for the next storm, so hours may carry on."
Snow presents difficult situations for all, but Myracle said city residents could keep a few things in mind to make the season run its course smoothly.
"Be patient," Myracle said. "If you see us in your neighborhood, and we leave, don't think we are not coming back. The spreaders on these trucks are not like Hollywood guns that never run out of bullets. We have to reload."
Keeping parked cars off residential streets will also ensure a more timely snow removal, Myracle said.
"Parking off the street would help tremendously with the snow removal in smaller cul-de-sacs and narrow streets," he said. "Sometimes that's not possible for our residents, so we will come back when (the cars) have been moved."
For additional information about the city's snow removal, contact the Basehor Public Works department at (913) 724-2000.