Senator visits elementary school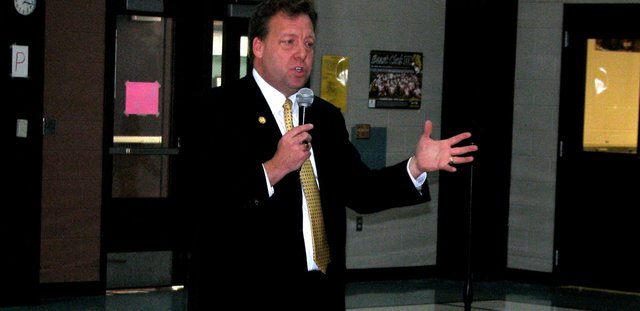 Students at Glenwood Ridge Elementary School in Basehor got a lesson in government and being a good citizen Thursday when Sen. Tom Holland, D-Kan., paid the school a visit.
Holland, who represents the third district in Kansas, came to Glenwood Ridge as part of the America's Legislators Back to School program, sponsored by the National Conference of State Legislatures.
During his talk with the students, Holland explained a few aspects of the state and national government, and discussed some of his responsibilities as a senator.

"We have a type of democracy called a 'representative democracy,'" Holland said. "That is where your moms and dads and brothers and sisters and neighbors in the community, they actually elect people to represent their interests in Topeka."
The people who vote in the third district are Holland's constituents, he told students, and he tries to act on behalf of those men and women.
"My job is to listen to my constituents, so that I represent their interests in Topeka," he said.
A democratic government relies on its people to function properly, Holland said. Voting, learning about the government, keeping current on legislative issues and reaching out to local representatives are some ways Holland said the students and their parents can practice good citizenship.
"That's really, really important when you have a democracy is to be sure you're communicating to your reps what you think the government needs to be doing," Holland said.