'She deserves our support'
Co-workers,
PTO

organize benefit for schoolteacher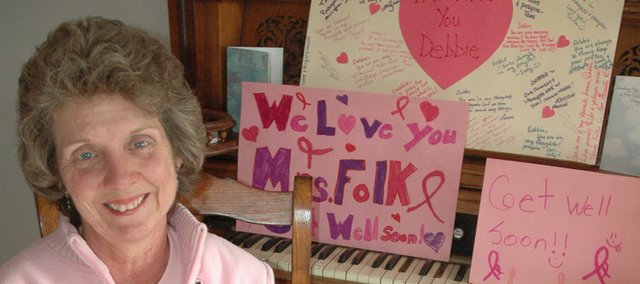 Debbie Folk loves her first-graders at Edwardsville Elementary School.
She's been with the district for more than 20 years, and the number of young lives she's touched grows with each passing year.
But Folk, a Basehor resident, is missing her students right now. She's taken a leave of absence, focusing her mind and body on a second round of breast cancer.
"I miss my kids," Folk said. "It's going to be OK for them, but it's hard, because most of them don't understand."
Folk was first diagnosed with breast cancer in June 2008. She found the lump during a self-examination not even a year after an annual mammogram detected nothing.
"It was so high on my chest, the mammogram couldn't detect it," she said.
She had surgery in September 2008 and had the cancerous lump and 16 surrounding lymph nodes removed. With a round of chemotherapy and radiation, Folk and her doctors thought she was in the clear.
That was at least until recently in August.
During another self-examination, Folk felt something new.
"It didn't feel right," she said. "It didn't feel like scare tissue (from the previous surgery.)"
A mammogram once again failed to detect anything wrong because of the cancer location, but the doctors investigated, and once again, Folk had to hear the worst news of her life.
"This is why self exams are so important," she said. "They called the next night and told me it was the same type of cancer. We have to start all over."
Supporting colleagues
That's when fellow teachers at Edwardsville Elementary School decided to jump in. They'd always been supportive of Folk's fight since her first diagnosis, but this time they wanted to do more.
With the manpower lacking to pull off a district-wide event, the teachers turned to the school's Parent-Teacher Organization.
Together the groups organized the Debbie Folk Benefit Event on Wednesday, Dec. 2.
"It's about supporting her and showing her support," said Kelly Billings, vice president and secretary of the PTO. "She deserves our support."
Through the spaghetti dinner, which was donated by community members, and candles and pink T-shirts sales, the event raised $2,100 to give to Folk to help her through this difficult time.
"It was amazing what we were able to do in a short time," Billings said.
The PTO has also set up a memorial fund at Mutual Savings Association, 229 Oak, where additional donations can be made to the "Debbie Folk Hope Fund."
"She is surviving," Billings said. "She is going to fight through this one day at a time and beat it."
Round two
Folk is in for the fight of her life as she begins down a familiar, yet unwelcome road.
"I've had my moments," Folk said about dealing with her cancer. "But my mom had cancer twice, and she always says, 'suck it up.' So I'm staying strong."
In November, Folk opted for a double mastectomy, deciding she didn't want to take any chances the cancer would return a third time. She will begin chemotherapy on Dec. 30 and undergo treatments for three to four months. Following that, Folk is unsure whether her doctors will recommend radiation.
"Going through chemo is rough. But I've never gone to one treatment alone," she said of the support system around her.
For now, an extended substitute will be taking over Folk's classroom of first-graders, and her colleagues in the district will continue to show her support.
"It doesn't surprise me," Folk said about the benefit event. "They're always supportive and caring. It's like a second family. You know they're there, and you can count on them."