Top 'Cat among
KC

's best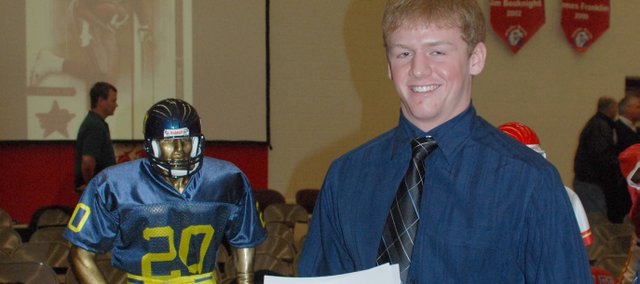 OLATHE — Some of the biggest names in Kansas City football packed the gym Tuesday at Olathe North High School for the 27th annual Simone Awards celebration.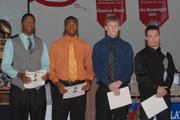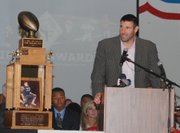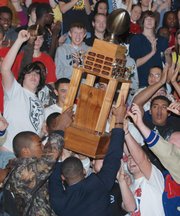 Former Kansas City Chiefs star and 12-time Pro Bowl selection Will Shields was there. Current Chief and three-time Super Bowl champion Mike Vrabel was, too. So were about 20 other former Chiefs, including Tim Grunhard who just led Bishop Miege to a Class 4A state championship, and legendary Olathe North coach Gene Wier who led the Eagles to six state titles before moving to Richland, Texas.
All were there to pay homage to the top high school football players in the Kansas City metro area.
There in the middle of it all was Basehor-Linwood senior quarterback Brandon Leppke. He was a finalist for the Frank Fontana Award, which goes to the top small-class player in the area.
Leppke set passing and rushing school records as a senior when he threw for 1,391 yards and 20 touchdowns and also ran for 1,632 yards and 18 touchdowns.
To Leppke, the recognition was a credit to what the Bobcats accomplished as a team during an 8-2 season, where they won the Kaw Valley League championship.
"I was very surprised (to be a finalist)," Leppke said. "This year was really a team effort. Before, we had the defense working or the offense, and we really all came together this year, so really it was more of a team award than anything."
Leppke was a finalist alongside Staley (Missouri) running back Evan Campbell, University Academy (Missouri) quarterback Darreen White and O'Hara (Missouri) High quarterback TJ White. Darreen White was selected as the winner.
"Just to have your name mentioned with any of those other guys is an honor," Leppke said. "I really don't know how to describe how it feels."
Blue Springs, Mo., standout Keeston Terry won the Otis Taylor Award as the area's top wide receiver.
Joe Windsor of Kearney, Mo., won the Bobby Bell Award as the area's most outstanding small-class defensive lineman or linebacker and Blue Springs' Jordan Chrisman won the Buck Buchannan Award as the top big-class defensive lineman or linebacker.
Olathe North running back James Franklin claimed the Thomas A. Simone Memorial Award for being the most outstanding football player in the metro area. Franklin rushed for 2,803 yards and 31 touchdowns this season while leading the Eagles to a 13-0 record and Class 6A state title.
In addition to football skill, the awards also take scholarship and character into account. BLHS coach Steve Hopkins said that made the recognition as one of 20 finalists for the five awards even more significant.
"They told me it represents 4,000 kids in the Kansas City area," Hopkins said. "So to be one of the top 20 kids out of 4,000 that play football in the Kansas City area, that's really a way to put it into perspective that whether it be as a player, as a student or his character, he is one of those top kids."