Worker pay discussion stirs debate for council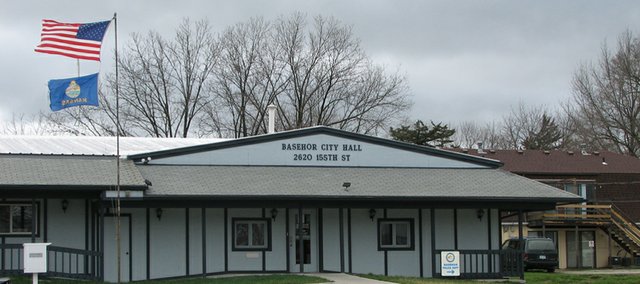 Discussion at the end of Monday night's Basehor City Council work session heated up as council members debated a possible employee raise.
City Administrator Mark Loughry presented to the council a plan for an 8 percent raise in city employee pay. The council earlier this year had budgeted an 8 percent increase in city salaries for 2010. The amount, though, was not necessarily allocated for existing employee pay raises and could be used for new hires, etc.
An 8 percent increase would cost the city $95,869, and Loughry said the city staff had broken the money down into a plan it thought would be most effective for Basehor.
In the city staff proposal, the following positions would receive a full 8 percent pay raise in an effort to keep wages competitive with surrounding cities:
• Senior maintenance worker, currently earning in a range from $11.77 to $14.12 per hour
• Senior wastewater operator, $14.01-$16.82 per hour
• Wastewater operator, $12.81-$15.37 per hour
• Treasurer, $15-18 per hour
• Court clerk, $13.40-16.09 per hour
• Police clerk, $11.15-13.39 per hour
• Police lieutenant, $20.36-$24.44 per hour
The animal control officer – now earning within a range of $11.01 to $13.21 per hour – would receive a 12 percent increase in pay, and all other city employees would receive a 3 percent merit raise based on their annual evaluations.
Loughry also explained the proposal requested a 2.5 percent cost-of-living allowance across the wage scale, along with offering short-term and long-term disability. With all these additions, the city would have $12,705.80 left from the $95,869, which staff recommended the city keep to possibly offset a future increase to the cost of employee benefits.
Council President Jim Washington said he did not think it was in the city's best interest to go forward with the raise in the wage plan, considering the present economic conditions.
"I cannot in good conscience support any significant increases to the wage scale this year," Washington said. "This is not the time."
Washington also said the council was obligated first to the residents of the city.
"Our responsibility is not first to the employee," he said. "Our responsibility is first to the taxpayers of the city."

In favor of the pay increase was council member Bill Moyer. He said the city's employees were deserving of a raise, and he could not believe such a conversation was taking place so close to the end of the year.
"I'm shocked that here we are two weeks from Christmas, and we're telling our city employees we don't think they deserve a COLA and a merit increase, even though we already budgeted it," Moyer said.
Moyer agreed with Washington's point that the city was responsible to the taxpayers, but he said part of providing for those residents was having quality staff.
"Who are the faces of the city? It's not us," Moyer said. "I'm not going to be out there tomorrow morning to plow snow. It's Gene (Myracle, city superintendent,) and his workers. Part of that responsibility (to the taxpayers) is giving them really good staff."
Mayor Terry Hill wrapped up the discussion by saying the amount the council already budgeted for salary increases was not terribly significant, considering the money the city was spending on existing projects.
"We're talking about $288,000 to put in trees and retaining walls to finish Wolf Creek Parkway. It's $95,000," Hill said. "I have to keep in mind that isn't all that much money. It's not all that much money to give these people what they're asking for."
The council will address the issue further at the Dec. 21 regular meeting.
Also on Monday night, the council:
• Heard updates on the Wolf Creek Parkway, wastewater treatment plant expansion, 150th Street and Basehor Town Center projects. All projects are running on time, and Wolf Creek Parkway will need change orders approved soon to ensure proper completion.
• Heard a request for change orders 3A, 3B, 4A and 4B in the Wolf Creek Junction project. Change order 3A includes one handicap ramp constructed at the northeast location of Wolf Creek Parkway and 153rd Street, retaining walls along Wolf Creek Parkway and an iron fence along the pond on Wolf Creek Parkway, with a total of $129,296.60. Change order 3B includes relocation of a power pole located southeast of the Wolf Creek Parkway and 150th Street intersection, with a total of $3,079. Both 3A and 3B are vital pieces to the project's completion. Change orders 4A and 4B include shade trees and retaining walls within the pond totaling $208,434, along with installation of conduit, wire and transformers for street lights totaling $30,000.
• Discussed a resolution to authorize the mayor, city administrator, chief of police, city superintendent and city clerk to conduct business with Commerce Bank for the purposes of the city's purchasing policy.
• Discussed the Basehor Athletic Association's request for funding. Hill said the city needed to make a decision during the Dec. 21 meeting on whether it would grant the $10,000 requested.
• Set a budget hearing for Dec. 21 to amend the 2009 budget to include an additional $33,000 for the Cedar Lakes Estates maintenance fund. The city has already spent more than the $17,000 originally budgeted, and the hearing would reorganize budgeted monies to avoid a state budget violation.
• Discussed amending the 2003 building code to change the requirement for businesses' sprinkler systems from 5,000 feet to 12,000 feet.
• Discussed granting a resolution for abatement of an environmental code violation at 15821 Willow Drive. The city has attempted several times to contact the homeowner to remove debris from the lawn near the home with no success.