Sumner tops Basehor girls for fifth place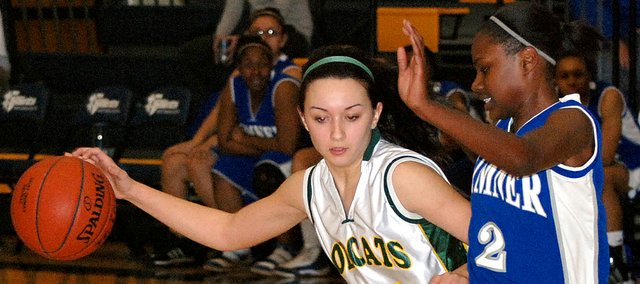 Overland Park — Basehor-Linwood got a sneak peek at a possible girls basketball substate championship match on Saturday when it squared off against Sumner Academy in the fifth-place game of the Saints Classic.
Photo Gallery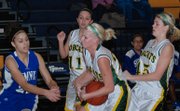 Sumner Academy 44, Basehor-Linwood girls 33
The result wasn't what the Bobcats hoped for — a 44-33 loss — but it provided a valuable learning experience that BLHS coach Noah Simpson said should benefit his team in the long run.
"I think it's good to face Sumner early on and get a feel for that. We don't want to go into substate seeing an unknown team. They're somebody we definitely want to see before, and so it was a great matchup for us," Simpson said. "We just dot down in a hole early on. It was good to fight back out of it, and hopefully that will give us a little confidence knowing we played pretty good in the second, third and fourth quarters."
Basehor dug itself an early hole as it came out ice cold from the field against a red hot Sumner.
The Bobcats missed nine of their 11 field goal attempts and turned the ball over twice. Meanwhile, Sumner was nine-for-15 in the opening quarter and received 10 points from Kathleen Brisbane as she scored on layups and 12-foot jumpers. The Sabres had eight second-chance points in the quarter and led by as many as 14 before taking an 18-5 lead into the second quarter.
"Sumner came out and pressured the ball well and did a good job with that," Simpson said. "But we played really sloppy early on. We tried to do some things differently on defense tonight, a lot of switching things where it depended on what Sumner did and also what we did, and it's something we have to work through mentally. We were miscommunicating the entire first quarter."
BLHS switched to a sagging 2-3 zone in the second quarter, and it was effective. The Sabres were forced to be patient and took just four shots to go with three turnovers. The Bobcats scored the first six points of the quarter as Cassy Bever slashed to the basket for a layup and Megan Bergstrom scored on a lay-in and a put-back to pull BLHS within 18-11.
Sumner scored the last four points of the quarter and led 22-11 at halftime.
The Bobcats continued to gain momentum as they opened the third quarter on a 7-2 run during the first five minutes. Taylor Johnson buried a 3-pointer and Bergstrom made a free throw and a 3-pointer to pull BLHS within 24-18. Sumner countered with a pair of baskets, but Bergstrom sank another trey and had the Bobcats within 28-21 entering the fourth quarter.
Basehor turned the ball over four times during the first four minutes of the quarter. Meanwhile, Sumner extended its lead to 34-25.
Bergstrom scored on three straight layups during a 6-2 run that drew the Bobcats within 34-29 with 2:25 left.
Later, Bever scored on a layup off of a Bergstrom assist to pull BLHS within 38-33 with 1:16 to go. That's as close as the Bobcats would get, however. They turned the ball over three times down the stretch and Sumner's Sameia Kendall hit six of seven free throw attempts in the final 67 seconds to ice the game.
"I have to definitely commend the girls for working through it and trying to get back in the game," Simpson said. "Sumner is a team that's in our substate, somebody that we know we'll (probably see) if we want to get to the state tournament, and we have some things to work on. I think it's good for us to have this test and see where we stand. There's little things that we need to correct, but the good thing is they are little things and they are things we can correct."
Basehor turned the ball over 15 times against Sumner, seven of them coming in the fourth quarter. The Sabres had 13 turnovers.
The Bobcats made 13 of 36 shots from the field, and Bergstrom scored a game-high 19 points. Johnson scored 5 points, Bever and Cara McCarty had 4 apiece and Courtney Poe added 1.
Sumner hit 17 of 32 shots. Brisbane led the Sabres with 16 points and Kendall added 10.
Basehor (1-2) next plays at 6 p.m. Monday at Mill Valley (1-2) in the Kaw Valley League opener for both teams. BLHS and MVHS tied for second in the league last season.