4-H'ers bake up huge batch of cookies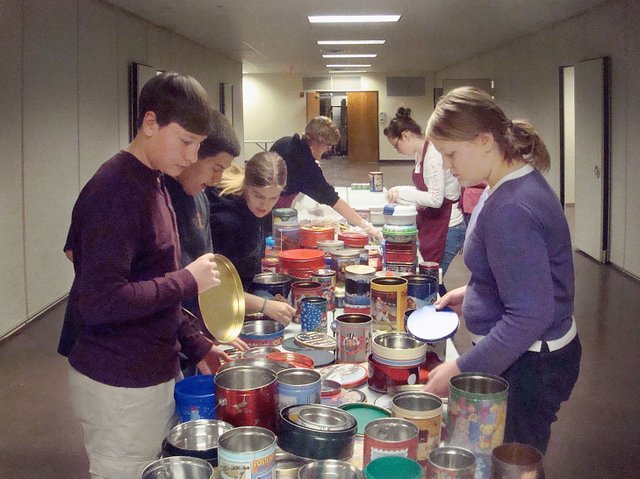 Anyone walking down steps Thursday to the basement of West Haven Baptist Church could smell the yuletide goodies baking.
The Leavenworth County 4-H Junior Leaders and their families baked, baked and baked some more as they filled roughly 100 Christmas tins. The care packages, each with a Christmas card signed by all the 4-H'ers, were then delivered to Good Shepherd Thrift Store and Food Bank to be distributed to needy families.
When all cookies were tallied, the group had assembled a whopping 1,772. The group could have had more cookies, but one batch came out "real gooey," said Michelle McIntyre, whose son, Aaron, is a junior leader.
"We could have had more," she said with a laugh. "It was for a reason I guess.
"They were quite excited. They were all like 'all right, let's see whether we can beat it again next year.'"
The number toppled the previous record, set this past year, at 1,200. McIntyre said the group had 300 more than was predicted.
"The kids did a really good job," McIntyre said.
Junior leaders president Allie Packard, who lives near Lansing, said getting together to make cookies and put together care packages is fun, but the gathering goes beyond that.
"It feels really good to do that for them," Packard said.
The group, which draws members from 4-H clubs across the county, asks that each 4-H family donate one or two-dozen cookies for the project.
June Jacobs, grandmother of club vice president Tyler Grammer, who lives in Basehor, said she prepared dough for about 30-40 dozen cookies that were baked Thursday night.
An assortment of cookies was baked for needy families: peanut butter, chocolate chip, oatmeal raisin, coconut, macaroons, snickerdoodles and Mexican wedding cookies, to name a few. Another cookie had peanut butter between two snack crackers that was then dipped in chocolate.
Anna Buddish, junior leaders secretary from Winchester, said her favorite cookies to make were thin mints, which she prepared Thursday morning. Aaron McIntyre, club treasurer who lives in rural Tonganoxie, favored old-fashioned chocolate chip cookies, while Packard preferred her grandmother's chocolate chip cookie recipe that her family has made for several years. Grammer, meanwhile, is a big fan of making oatmeal raisin cookies.
Though there were a few decorative holiday plastic tubs, most containers were of the tin variety. Jacobs said Good Shepherd donated several tins, as did Vaughn Trent in Bonner Springs.
She encouraged anyone with tin containers to donate them to Good Shepherd.
Though the 4-H group has been baking cookies for needy families each December the last few years, Thursday's baking extravaganza was a first for one person. Michael Liu, who is an exchange student from China attending Tonganoxie High School this year, said he enjoyed the evening.
"You help a good cause and at the same time have a good time," he said. "It's a really good thing for the community."
The junior leaders also decorated doors for senior citizens Sunday in Lansing for the holidays.