Despite tough years,
KC

Bindery holds it together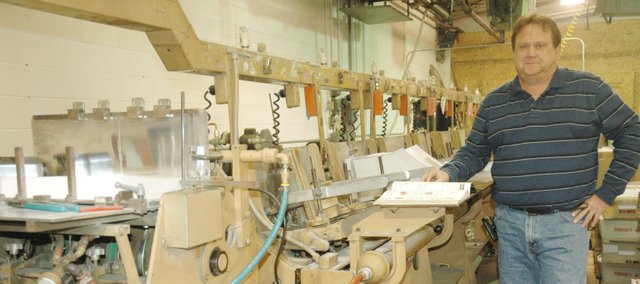 Editor's note: This continues a monthly series profiling various industrial businesses located in Bonner Springs and Edwardsville.
It's been a tough road for Phil Self getting his custom mailing and bindery business started.
Too tough for his original partner, who jumped ship as the business struggled to be profitable in its first few years.
Now, KC Bindery and Mailing, located at 12601 Kaw Drive, Bonner Springs, is thriving and Self is enjoying business coming in from across the country.
"It was so rough the first three years," Self recalls. "Finally today, we've got it built up to this."
KC Bindery's purpose is to help other businesses distribute mailers to current or potential customers. Self said businesses came to KC Bindery either with a predetermined mailing list or they could buy a list of addresses fitting the demographic of their target audience.
With the list in hand and the product for the actual mailer ready to go, KC Bindery does the rest.
"We get the address list and information, and we take it from there," Self said.
Mailers can come in the form of many different shapes and sizes, from bound magazines to small post cards, and KC Bindery handles it all.
On a large manufacturing floor sits more than 30 machines, all designed to turn flat printed pieces of paper into the brochures customers see, as well as stuff and address mailers that are ready to be picked up or delivered to the post office.
"Mailers are the life blood of the post office and retailers," Self said, explaining the post officer needs the revenue from more mail and retailers need to inform customers what they have to offer.
KC Bindery started in 1978 after Self and a fellow employee decided to leave their bindery positions at a graphics company and start their own bindery business.
The set up shop on McGee Street in Kansas City, Mo., and found it wasn't easy to start a business from scratch.
"I just kept fighting to get the bindery going," Self said. "Eventually it started coming around."
The business has seen several locations, including Merriam and Kansas City, Kan. When their shop in Kansas City, Kan., flooded two years ago, Self moved the business to Bonner Springs.
While the business has seen some ups and downs in its existence, Self says in today's economy, he's holding somewhere in the middle.
"We're having a good year," he said. "Not as good as past years, but I can't complain."
The reason for his steady growth, Self said, was his efforts to keep a handle on new technology and techniques, which seems to be working.
"We're one of only a few bindery and mailing combos in the country," he said.