Drought of dollars
As funding, attendance dry up, Ag Hall's survival in danger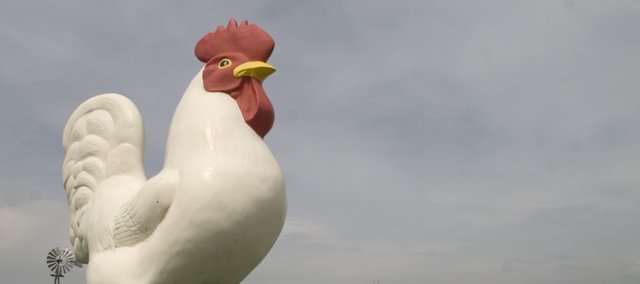 Related document
Wearing a coat to keep himself warm inside the east wing of the National Agricultural Center and Hall of Fame museum, education coordinator Lee Sigley offers his take on the current state of affairs at the center.
Facing a financial squeeze, the hall has lowered the thermostat, hoping to cut the heat bill.
Operations, he said, have also suffered. The normal day-to-day planning that goes on in any museum has come almost to a halt because of the center's uncertain future.
"We usually have a guest artist," he said while surveying the room of artifacts and painted works devoted to agriculture. "But we're unsure of what's going to happen."
That was Friday, Nov. 20, just days before Sigley and the Ag Hall's two other full-time staffers and three part-time staffers found out that cutting heating costs wasn't enough to pull the hall out of a financial tailspin and save their jobs.
The Ag Hall's board of governors made the decision Nov. 23 to release all staff members over the closed winter season, with no guarantee that jobs would be waiting for them when the center is scheduled to reopen next March.
Also let go was chief executive officer Tim Daugherty, who earned a yearly salary of $125,000, comprising the bulk of the center's payroll expenses.
Cutting staff during the off-season is just one way the governing board has tried to pare expenses. Governing board members say the layoffs were a necessary action, estimating it will save the hall about $80,000. This is money it can't afford to spend, says governing board member Cathi Hahner, who will head a team of volunteers that will run the place indefinitely. She says the available funds the center has to work with now totals less than $130,000. In January 2010, that number will be reduced to $100,000, said Hahner, only a little more than the projected revenues for 2009,which she says are about $90,000 – far below the projected $440,000 in expenses for 2009.
In fact, Hahner said, the financial situation has become so bad that to continue operations to this point, the center was forced to borrow money from its Etta Blanche Dahlgren scholarship account. Money in that restricted account goes to fund scholarships for students in Kansas or Nebraska studying agriculture. The borrowed amount, a little more than $163,000 that was taken out in September, will have to be paid back eventually — probably through a sale of some of the center's 165 acres located just north of Bonner Springs, Hahner said.

But while the center may be in a financial hole now, board members interviewed for this story say they are determined to find a way to dig out.
"That's our goal," said Frank VanFleet, governing board chairman and president of the Wyandotte County Farm Bureau. "To start raising money and get the organization back on sound financial grounds, and we're going to be cutting corners every place we can until we get that done."
How did it come to this?
Sigley, who had worked at the center for four years, said the Ag Hall had always struggled financially, and audit reports from the past five years don't dispute his claim.
According to the reports, the center's operating budget has, more often than not, been much greater than its revenue. In 2004, for example, the Ag Hall ended the year with operating expenses totaling $302,418 and revenue totaling only $201,202. And despite a land sale in 2005 that brought the center close to $1 million, the yearly deficits have continued to grow.
The continued pace of expenses outstripping revenues, board members have long known, meant something had to be done.
"We knew we needed to develop stronger relationships with land grant universities," said Joel Ebbertt, describing the board's collective thinking prior to 2007, the year Daugherty was hired. "We knew we had to build those relationships with agribusiness," said Ebbertt, who at the time was president of the Ag Hall board of directors.
Ebbertt said Daugherty, a former vice president of administration at Farmland Industries Inc., was the one to build these relationships. Daugherty had the necessary connections that might garner stable funding for the center, Ebbertt said, but he wouldn't come cheaply.
The board, he said, researched comparable positions at other institutions and came up with a contract that would start Daugherty off at $120,000 a year, with $5,000 being added to that salary each year of his employment. Daugherty's contract, a copy of which was obtained by the Chieftain, was for a three-year period.
The 2005 land sale, Ebbertt said, gave the center the ability to afford the contract — at least at the time of Daugherty's hiring. The contract also promised Daugherty a yearly performance bonus of $42,500. He was set to receive his first bonus this year, but Ebbertt said Daugherty asked the board to hold off on paying him the bonus given the center's financial circumstances. His performance bonus would, instead, accrue 5 percent interest per year until it could be paid by means of a land sale, according to an agreement signed by Ebbertt, Daugherty and former board of governors chairman Bob Carlson.
The size of Daugherty's salary has been a major bone of contention for the current board of governors; some claim they didn't know how much he was getting paid in the first place.
"I don't know what the circumstances was (when Daugherty was hired) … but no organization pays 25 percent in their total budget in their salary to their director, and that was what it was costing," said VanFleet who said he was never aware of the amount of Daugherty's contract, despite being on the board of governors at the time of the hiring.
Hahner, who had worked at the Ag Hall for 13 years prior to leaving her position as director in 2007, said it has been typical of the governing board to spend money it didn't have in hopes of raising the money it needed. She said Daugherty was brought in to be a rainmaker for the facility, but thought the board would have been better served to look for other, less expensive, options.
"I think they go for these kind of big dreams … and spending that money to kind of save the organization instead of working along and realizing that it's bringing in board members (with fundraising skills) that can help raise the money," Hahner said.
Where did the money go?
With such a high salary must come high expectations, and Daugherty said the expectations of him were high — especially in the area of acquiring donations for the center.
Kansas City-based Farmland Industries, Ebbertt said, was the center's largest corporate contributor, donating $25,000 a year until it went bankrupt in 2002. After that, he said, donations began to decline. Though the center's audit reports show there were some relatively strong years in terms of donations following the bankruptcy – in 2005 the center received $155,880 in donation dollars – it had some dismal years as well. In 2006, the center received a little more than $57,000 and in 2008, it received even less than that, garnering only $39,014.

Daugherty said he spent much of his time as CEO approaching potential donors, including John Deere and the American Institute of Baking. He often hit a brick wall in trying to raise contributions.
"There was a series of reactions," Daugherty said. "One of those reactions was that fewer organizations are willing to contribute to areas that are just focused on the past, so that was one of the reasons that as we looked at future directions, we always looked at present and future as an important part."
Daugherty said another reaction he often encountered was that more and more corporate donors were less willing to give to any organization with primary not on such areas as education or underprivileged children.
The national economy, too, has played a major role in the decline in corporate giving, and it's also hurt in a more direct way: The Ag Hall took a 20 percent hit to its investment accounts in September of 2008 at the beginning of the current economic recession. That year, the center closed its financial books with a $580,927 deficit.
But the economy and a hefty CEO's salary aren't the only reasons for the Ag Hall's woes, board members say. They question why more hadn't been done over the years to promote the hall and bring in more attendance. According to the audit reports, the center's largest promotional budget in the last five years was in 2008, at $10,150, not including those funds used for advertising mailings. Its lowest was a budget of $6,581 in 2007.
The Ag Hall lost some major ground on admission dollars in the late 1990s when the FFA convention was relocated from Kansas City, where it had been for years, to Louisville, Ky. Hahner said the event would bring young students by the thousands to Kansas City, who would then be bused in to see the exhibits at the Ag Hall of Fame.
Of audit reports dating back to 2001, the center's greatest revenue stream attendance was in 2002, where $48,589 was garnered in admission dollars to the museum and exhibits. In 2008, admission dollars reached only a little more than half that amount, at $26,272.
"I was puzzled as to why they weren't promoting it more, and that was surprising to me that our attendance had dropped off so much," VanFleet said. "That's one of our big concerns is that in the past, at least last year, there was very little promotion."
Back to square one
VanFleet said the board during the first strategic meeting of the year in January would look at new ways to promote the center and gain donations. Meanwhile, volunteers will run the center until it reopens in March of next year.
"It's nice to finally know exactly what will be happening," Sigley said before the news of the layoffs, noting the uncertainty the employees had lived with in the months prior to November.
Perhaps Sigley got closest to the heart of the matter when he matter-of-factly stated what he thought was the real problem for the Ag Hall's financial situation: The Ag Hall celebrates the farm and people who have contributed to the progress of American agriculture, but that may not be enough of a drawing card.
The level of interest in the ag center has never been what it should be, Sigley said.
"People take it for granted."
More Ag Hall news:
Poultry museum offers ray of hope
Capital campaign misses mark, fails to produce
Audit reports through the years: