Sixteen minutes of magic as Bobcats beat Jags
Four games in five days not a problem as Basehor-Linwood boys win, 65-40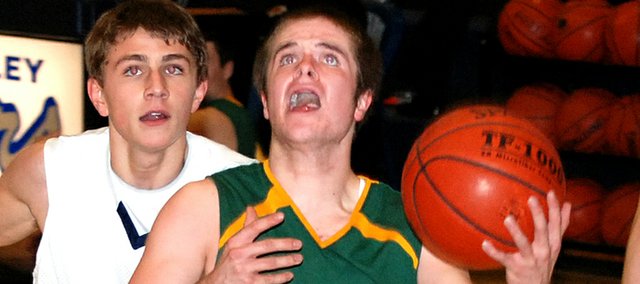 Shawnee — All in all, Mike McBride liked what he saw.
Photo Gallery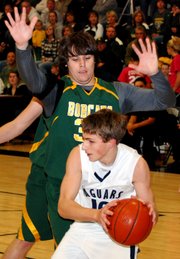 Basehor boys 65, Mill Valley 40
The Basehor-Linwood boys basketball coach wasn't thrilled with his team's overall performance in its 25-point victory Monday at Mill Valley, but he knew his team was a bit fatigued from playing its fourth game in five days.
Still, McBride thought the 65-40 victory was half nice.
"It's a little different with knowing what we have and knowing what we're trying to accomplish," McBride said of his outlook on games this season. "With our substate, we're just trying to play 32 minutes. I thought we played a great first half tonight, and that was all.
"I thought we played all 16 minutes of the first half and about six of the second half."
On the other sideline, Mill Valley coach Justin Bogart had a different assessment of the reigning Class 4A state champions.
"They exerted their will on us tonight," Bogart said. "We worked awfully hard to score 40 points. Man, we worked hard for 40 points. But they're bigger, and they're in great shape because they just came off of three games in three days. They've played four games in five days, and they looked fresh.
"Mike's doing a great job with those guys. At one point, I think the league schools looked to us as the model, and right now I think without a doubt we have to look at Basehor as what we want to be, because if we want to win a league title we have to beat those guys."
Ryan Murphy gave BLHS a 2-0 lead with a layup on the game's first possession, but Mill Valley countered with a 3-pointer by Austin Muckenthaler. That sparked a back-and-forth flurry that left the game tied at 11-11 after six minutes.
A 3-point play by Mark Vaca, a Ryan Murphy put-back and a Colin Murphy 3-pointer stretched the lead to 19-11 by the end of the quarter.
The Bobcats never looked back. They used a 12-1 run in the second quarter to build a 36-21 lead by halftime.
"I don't think our guys backed down at all," Bogart said. "We just couldn't maintain the effort and intensity necessary to overcome that second-quarter run and that early third-quarter run."
The third-quarter run was a 6-0 surge that pushed the lead to 21 points as Basehor coasted to the victory.
Five Bobcats scored in double figures. Colin Murphy led the way with 14 points, Ryan Murphy had 12, Jake Hattock scored 11, Mark Vaca and Richie O'Donnell had 10 apiece, Evan Theno and Austin Stubbs scored 3 and Jeff Johnson chipped in 2.
Muckenthaler led Mill Valley with 12 points.
BLHS (3-1) next plays at 7:30 p.m. Friday at home against Lansing. It will be the Bobcats' fifth straight Class 5A or 6A opponent to start the season.