Weary legs, cold night costly for
BLHS

girls against

MVHS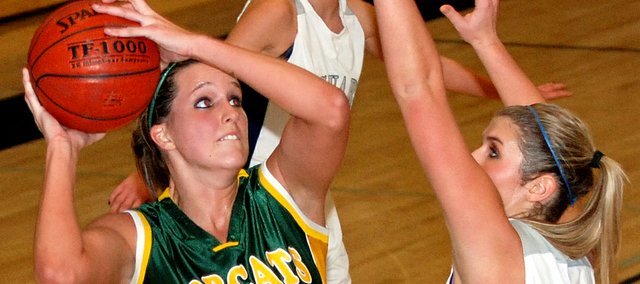 Shawnee — The uncharacteristically bitter December weather drifted into the Mill Valley High School gymnasium and took its toll on the Jaguars and Basehor-Linwood Bobcats Monday night.
Photo Gallery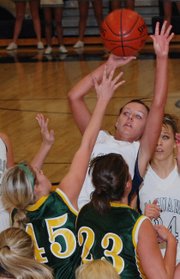 Mill Valley girls 43, Basehor-Linwood 37
Both teams shot under 26 percent for the game and each had a quarter without a field goal. Ultimately, Mill Valley had just a bit more in the tank, however, and won the girls basketball battle, 43-37.
For Mill Valley, the victory was the second straight against a quality opponent. MVHS knocked off Class 6A Olathe Northwest a week earlier.
For Basehor, the loss ended an exhausting streak of four games in five days, and the fatigue showed.
"We knew these first four games were going to be ridiculously tough. We didn't realize they'd be this tough," BLHS coach Noah Simpson said of his team's three-game appearance at the St. Thomas Aquinas Saints Classic and the Mill Valley game. "I told the kids in the locker room that part of it is being tired. I said 'I'm tired, and I've been coaching. I can't imagine playing four games in five days.'
"Some of those kids are given a lot of minutes. Megan Bergstrom doesn't come off the court unless she's in foul trouble or the official notices she's bleeding. We're not going to take her off the court. It's the same thing with Courtney Poe. Right now she's playing well, she's getting us set and she's playing good defense. We're not going to take her off the court either. And when you do that for four games in five days, it's tough on kids."
Basehor had a dreadful opening quarter. The Bobcats took care of the ball — they turned it over just twice — but simply couldn't score. Layups, open 3-pointers, guarded shots, none of their 16 field goal attempts went in.
Mill Valley wasn't particularly accurate, either, but the Jaguars made four of their 13 attempts and led 11-0 after the first eight minutes.
The squads reversed roles in the second quarter as MVHS missed all 12 of its shots and received only a pair of free throws by Emily Altman and another by Erin Graviette.
Meanwhile, Bergstrom sparked a BLHS rally as she scored an early layup, swished three free throws and dished two assists while bringing the Bobcats within 14-11 at halftime.
"That was (Basehor's) fourth game in five days. I understand that," MVHS coach Diana Krull said of the Bobcats' shooting woes. "For us, I told the girls at halftime, that was uncalled for. We have the youthful legs. We should've been building on our lead. They're the ones who should've been dead from playing three days straight."
Bergstrom sank a free throw early in the third quarter that brought BLHS within 14-12, but Ashton Sparks sank a 3-pointer and Whitney Hartman had a steal and coast-to-coast layup that ignited Mill Valley on a 14-7 run and stretched the lead to 28-19 late in the third quarter.
Basehor used 3-pointers by Bergstrom and Poe to pull within three on multiple occasions during the fourth quarter. The Bobcats cut it to 36-33 on Bergstrom's second trey of the quarter with 2:55 to go, but MVHS put the game away from the free throw line.
Simpson said he wasn't discouraged by the loss, but he wants his team to figure out a way to overcome its recent string of slow starts.
"The attitude's great, the kids are still working hard, they know what our goals still are and they know it's just a learning process now," he said. "Hopefully we learn from this and get after it. It turned out to be a fun ball game. It was kind of rocky there at first, I wasn't sure how it was going to turn out for us, but I thought the kids worked through it and fought hard and we had chances at the end to even tie at times."
Altman led Mill Valley with 17 points.
Bergstrom led Basehor with 23 points, Cassy Bever had 5, Poe scored 5 and Shelby Equels and Taylor Johnson added 2 apiece.
BLHS (1-3) next plays at 6 p.m. Friday at home against Lansing.