Wreaths placed to honor fallen soldiers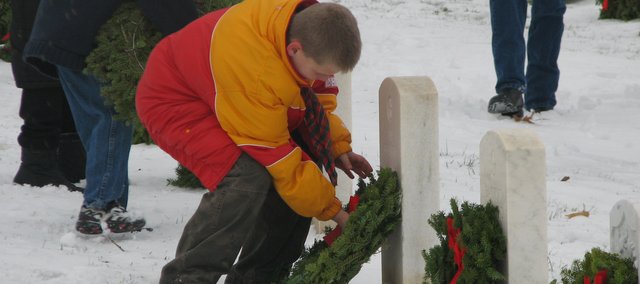 Snow crunched under the feet of visitors Saturday at Leavenworth National Cemetery as they moved toward the site of what has become an annual event.
The large crowd gathered in a half circle around Maj. Ronald Behm to listen to a ceremony for Wreaths Across America, a national honorary event to decorate the graves of fallen soldiers with holiday wreaths. Behm waited through the sound of geese honking overhead and a clock solemnly chiming in the distance to begin his speech.
"We are gathered here to remember we are one nation with one flag," Behm said. "The freedoms we enjoy today have not come without a price. We thank those who gave their lives to keep us free, and you shall be remembered."
Wreaths Across America began in 1992 when Morrill Worcester, owner of the Worcester Wreath Company, decided to place his company's excess wreaths on soldiers' graves in Arlington National Cemetery. The Worcester Wreath Company started a tradition that year that grew into a nationwide campaign to honor America's veterans and educate children about the battles in America's past.
Last year, Basehor Elementary teacher Michelle Ablard got involved with Wreaths Across America because of a Veterans of Foreign Wars DVD. Her and her students raised enough money in 2008 to buy 200 wreaths through a bake sale and donations, and the Worcester Wreath Company donated an additional 250 wreaths.
This year, Ablard's class, with help from the Gold Star Mothers, bought 674 wreaths to be placed in sections 37 and 38 of the cemetery. Worcester Wreath Company again aided the cause by donating an additional 133 wreaths.
"This is amazing," Ablard said as she looked around at all the people who came Saturday morning, no doubt remembering a much smaller group the previous year. "It's very special this morning with the Gold Star Mothers participating."
To Ablard, the experience provides a lesson for her fifth-graders, as well as a memory they can carry with them forever.
"It's important for the kids to know where their freedom comes from," she said. "And these are life stories the kids will always remember."
Before all the community members placed their wreaths on the veterans' graves, several military personnel gently lay wreaths against the cemetery's memorial in honor of men and women in the Army, Navy, Marines, Coast Guard and Air Force, along with those who have been declared prisoners of war or missing in action.
"The wreaths before you represent our commitment to the United States of America and to those who have fallen. We owe them our way of life." Behm said. "To the children here, understand the freedoms you have were not free."
The cemetery also provided visitors with the address for a Web site that described all the buried soldiers, so everyone could learn more about the persons being honored that day.
As all 807 wreaths found their resting places, laughter, chatter and footsteps filled the air. Then as suddenly as it came to life, the cemetery was again quiet, with shades of emerald and ruby flashing against the winter background.
One woman stopped just before she reached the top of the grave-lined hill and turned around to get a final look.
"It's so beautiful," she whispered. "It's just so beautiful."
Photo Gallery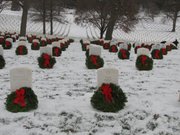 2009 Wreaths Across America