Adoptions give puppies homes for the holidays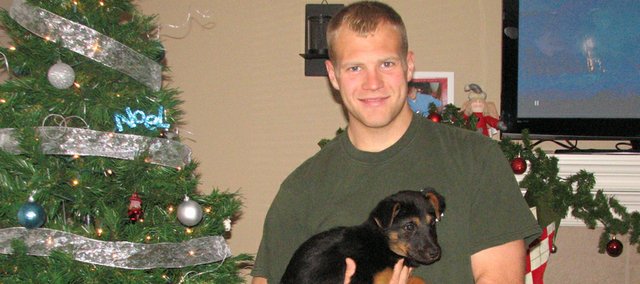 A few Basehor puppies got their lucky break in time for the holidays.
Thanks to Jan Maleta and several others in the Basehor area, three stray puppies have found a warm home for Christmas.
When Maleta was working in Edwardsville, she said she started putting out food for a cat she had seen wandering near her office. She soon discovered it was not a cat that had been gobbling the treats she was placing outside, but a stray dog that had a litter of puppies. It was then Maleta began a mission to find families for all the dogs.
"I just thought, 'I've got to do something to help these puppies,'" she said.
She set a trap and feeder where she had last seen the dogs, she said, and prayed for a puppy to find its way there. The older female dog was her first catch, and Maleta took the dog to Piper Heritage Veterinary Clinic to have her spayed. Because of the dog's age, which was about 5 or 6 years, the veterinarian recommended letting her go because it was not likely she could be socialized.
Maleta said she spent more time praying and thinking about those puppies out in what was beginning to be cold weather. Not too long after, Maverick, a 6-month-old ball of fur, ended up in the trap.
"We were all so happy," Maleta said of the day she found Maverick.
After a trip to the vet for neutering and vaccinations, Maverick found a home with Maleta's co-worker.
"He was pretty timid and scared," Maleta said. "He's still shy with strangers, but Meaghan has been working with him, and he's doing great."
But Maleta's quest was not fulfilled. She knew there were more puppies still out in the cold. She said she put the trap and feeder out again, this time behind a neighboring business because she was no longer working in Edwardsville.
"For a few days, nothing came," she said. "And you know, we didn't get any wild animals, either, and people said that was amazing. We had food in the trap, but I told everyone, 'Of course we don't have any wild animals. I only prayed for puppies.'"
In a short time, a brown and black 10-week-old German shepherd mix puppy showed up. She, too, had a vet visit and went to live with Maleta's son, Chris, and daughter-in-law Ashley. Chris and Ashley named her Roxie, and Roxie's first night at home was rough, Maleta said. When Chris took her outside to play, she wriggled out of her harness and took off into the dark, snowy night. Maleta said she, Chris and Ashley looked nearly all evening for Roxie, and again, she turned to prayer.
"I said, 'Angels, bring that puppy back to us,'" Maleta said.
The family set a trap near where Roxie had run away with a little peanut butter, hoping for her safe return. And sure enough, when Chris went to check the trap the next morning, he was greeted by Roxie's furry face.
"That's our Christmas miracle," Maleta said. "It's such a miracle she ended up back here."
After Roxie, Maleta caught one more puppy, and she secured a home for him with her son's neighbor. Two puppies remain in the litter, Maleta said, and once she catches them, they will go to the vet, then to a friend to be socialized, after which Wayside Waifs of Kansas City, Mo., has agreed to hold the pups until they are adopted.
Maleta said she was thrilled with the success she had in rescuing the puppies and was grateful to all the people who continued to help.
"I've met a whole lot of people with open hearts," Maleta said. "It's wonderful. What a nice Christmas story."