McLouth Marine and family get Christmas surprise from anonymous Santa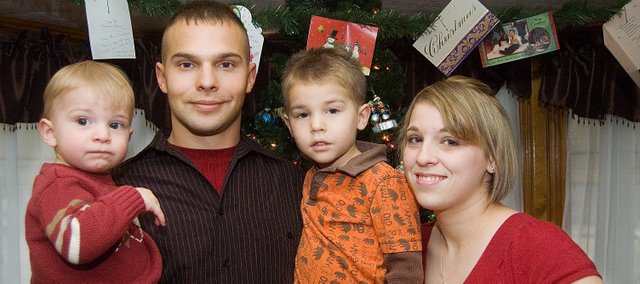 Jake Perry and his family got a special gift-bearing visitor this year.
The visitor didn't come in a red sleigh hauled by eight reindeer. Instead, this Santa came in a red Ford Explorer driven by 200 horses.
On Saturday morning, an unknown woman stopped by the Perry's home in McLouth to drop off food, toiletries, a $200 gift card and presents to Jake, his wife Julie and their two sons Gavyn, 3, and Nolan, 1.
"We were just sitting at home when we saw the car pull into the driveway," Perry said. "I walked up to meet her and she said, 'put your coat on and help me carry some stuff in for you guys.' "
Julie said she couldn't believe what was going on at first and thought they had won a prize.
Jake was also confused until the woman explained that she and her friends got together to donate items for the family. Jake is a Marine Corps corporal who has twice been deployed to Iraq.
Perry's first deployment to Al Asad Airfield in Iraq was in 2006. When he left then, his baby boy couldn't talk. When he returned, Gavyn couldn't stop boasting to strangers, "this is my dad."
Last February, Perry was sent back to the same airfield in Iraq. On this deployment, Perry had to leave his family, which now included Nolan, who was stricken with acid reflux disease, and a wife who was dividing her time between home and school, where she was continuing her education to become a nurse.
"The first deployment wasn't too bad because (Gavyn) was too young to know what was going on," Julie said. "The second was tougher because the boys knew what was happening."
Things didn't get much easier for the Perrys when Jake returned in September. As an iron worker for Liberty Erections Inc. in Kansas City, Mo., Perry said the winter weather is the beginning of the slow season, which is made worse by the slow economy.
For a while Julie said it didn't look like they were going to have much of a Christmas this year.
Then the stranger arrived. Now the empty space under the Christmas tree is filled with gift-wrapped presents labeled "for big brother" and "for little brother."
Julie thinks she had talked with people about her situation while Jake was deployed. But she definitely didn't know the Santa, who said she and her friends wanted to remain anonymous. Julie says she respects that.
"We are very thankful for what they did," she said. "It made our family very happy and it made our Christmas a lot better."