Teachers tackle holiday issues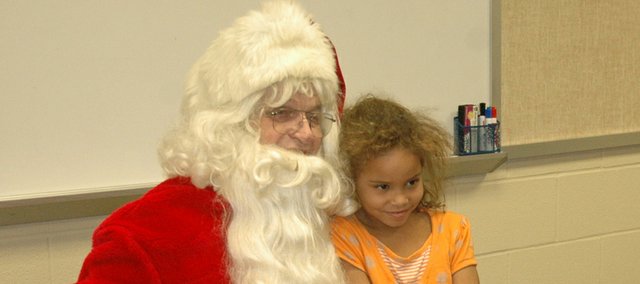 The barrage of festive holiday images lining the walls is hard to miss walking into the classroom of Andrea Netzer.
Go across the hall to Kerry Wylie's classroom and no such images appear.
Both are second-grade teachers at Edwardsville Elementary, but this year, Wylie is carefully dealing with a situation that appears in most schools on a yearly basis. How should teachers handle the religious and secular aspects of Christmas, when not all of their students and families have the same beliefs?
"It makes it hard for the rest of us. But (the students) are OK with it," Wylie said of not being able to celebrate Christmas in her classroom. "We just go on."
This year, Wylie has a Jehovah's Witness for a student, and said she's been careful to keep all Christmas-related activities out of her lesson plans. Instead, Wylie said she's focused on winter-related activities, such as making snowmen or reading books about winter.
One holiday activity Wylie's students weren't going to miss out on, however, was the annual classroom party, which took place Friday in all USD 204 elementary schools.
While the particular student in Wylie's classroom was absent that day, Wylie said the school prepares special activities in the library for students not wanting to participate in the holiday parties.
This is the same throughout the year, Wylie said, as the school tries to accommodate the students with particular beliefs by giving them fun activities and time of their own.
Although Netzer doesn't have any students in her classroom this year whose family has requested them to sit out of holiday events, she said she's dealt with the touchy situation in the past.
Her approach, she said, is to teach about as many different holidays and traditions as possible, including Christmas, Hanukkah and Kwanzaa.
"It's a state (education) standard to teach about holidays and tradition," Netzer said, referring to parts of her curriculum the state of Kansas requires her to teach.
With teaching the many different holidays and traditions out there, Netzer said she's able to show her students everyone's beliefs.
"Even if more than one person celebrated Christmas, we teach them that everyone has their own traditions," Netzer said.
In addition to being conscious of everyone's beliefs, Netzer said she has also had to deal with the age-old question about whether Santa Claus is real. With a classroom full of young students, Netzer said, every year, one or two are bound to question the existence of Kriss Kringle.
To help with this subject, Netzer's class watched the movie "Polar Express," which tells the story of a young boy who takes a train to the North Pole to see if Santa Claus is real.
"It deals with the power of believing," Netzer said. "I tell them, 'If you don't believe you don't receive.'"