Public Works continues street cleaning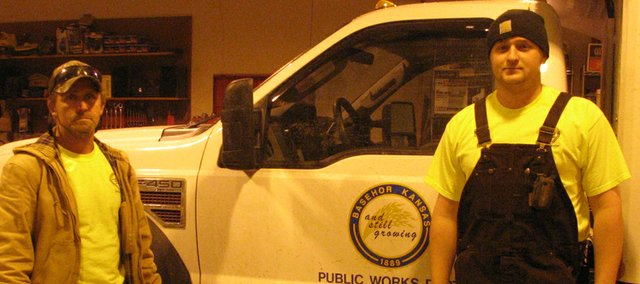 Though the recent snowstorm made for a white Christmas, its onset meant a great deal of labor for the Basehor Public Works Department.
With the estimated 7 inches Basehor received in snowfall on Thursday and throughout the weekend, Public Works has been toiling to clear the city's streets for motorists.
City Superintendent Gene Myracle said Monday the majority of the streets had been cleared, but more work remained.
"We've got most all the streets open for traffic," Myracle said. "Now we're working on curb-to-curb work, trying to get everything cleared out."
Myracle said the department had been working overtime to compensate for all the snow, but the amount of precipitation combined with the fierce winds had slowed the process.
"I know there are a lot of people not happy with us right now," Myracle said. "We're trying to stay on top of it. With all this snow and wind, it's been a nightmare, but we're on it."
On a typical snow day, workers will go home during the early evening, depending on the location of a storm, and return to work about 2 a.m. or 3 a.m., Myracle said.
"Usually we let the storm develop with three inches of snow prior to plowing, or in an ice or sleet storm, we start applying material as soon as possible," Myracle said. "The city of Basehor does not have the equipment to liquid pretreat the roadways like the state or larger cities have, so we start with a sand-and-salt combination, depending on conditions and temperature. Once the storm is ending and staff has treated all streets, we then have to perform all maintenance and service equipment to be prepared for the next storm, so hours may carry on."
Snow presents difficult situations for all, but Myracle said city residents could keep a few things in mind to make the winter season run its course smoothly.
"Be patient," Myracle said. "If you see us in your neighborhood, and we leave, don't think we are not coming back. The spreaders on these trucks are not like Hollywood guns that never run out of bullets. We have to reload."
Keeping parked cars off residential streets will also ensure a more timely snow removal, Myracle said.
"Parking off the street would help tremendously with the snow removal in smaller cul-de-sacs and narrow streets," he said. "Sometimes that's not possible for our residents, so we will come back when (the cars) have been moved."
Street-cleaning from the storm will continue through the week, Myracle said.
For additional information about the city's snow removal, contact the Basehor Public Works Department at (913) 724-2000.