City explores industrial park options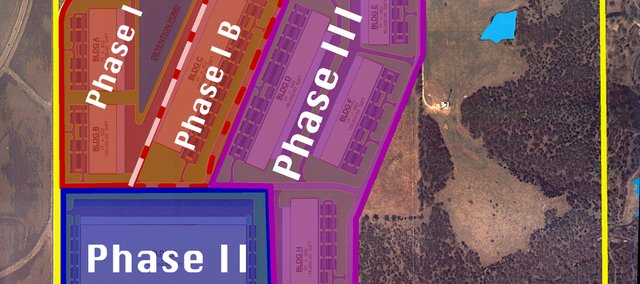 If Tonganoxie is going to develop a new industrial park it probably won't be able to do it alone.
Tom Kaleko, senior vice president at Springsted Inc., the city's financial adviser, said the city needed to make a decision on whether to fully fund the development of the new industrial park or help share the cost with a private developer.
"Right now the city is a land bank, and that's not a bad place for a government to be," Kaleko said. "But once you start spending money on these types of improvements, you've just entered the development business. It's a risky business, and it's an expensive business. The other option, if you want to move the project forward, is finding a private partner to take all or some of that risk."
For more than a year since purchasing the 237 acres south of Tonganoxie near County Road 1 and Kansas Avenue, city leaders have been looking for help within the county to fulfill its dreams for an industrial park. But after a Dec. 21 work session that included Kaleko, members of the city's industrial park planning committee and members of the Tonganoxie City Council, the city is looking into sharing its dream with someone with deep pockets.
A recent engineering study by TranSystems put a cost estimate to develop the park at more than $14 million with nearly $2 million of that cost devoted to bringing water, sewer and gas lines to the property.
Originally, the city was looking at partnering with Leavenworth County and the Leavenworth County Port Authority to help develop the site, but as budgets grew tight in 2009 and even tighter for 2010, wells for funding soon dried up.
Tonganoxie could attempt to take on the whole lump sum, but with its current revenue streams, Kaleko said Tonganoxie is in no position to finance the development of the park.

"I get very nervous when cities take on financing with no real sources of revenue other than sales or property taxes," Kaleko told the group. "That is a very big risk."
He highly recommended that the city look into helping a developer out by spending the necessary money to bring utilities to the site and then have the developer use his expertise in planning and creating the industrial park.
Steve Jack, director of the Leavenworth County Development Corporation, agreed and said the closer a site can be to being shovel ready, the easier it is for him to sell the property to industries.
"I think everything you are doing is in the right step to making this into a business park," Jack said.
He remarked that often times the only thing he has to show potential business in the county is a very raw product.
"Utilities could be extended, but they weren't," he said about some of the land he has to market. "The land could be graded but it wasn't. It could be zoned, but it wasn't. For a developer that is looking to put in a 200,000 square foot building and hire 200 people it looks like farmland."
Although the industrial park committee didn't have any specific recommendations for the city council that evening, they did want to start putting something together to share with area developers and refine the cost estimates on how much money it would take to bring utilities to the land.
Armed with this information, Councilmember Tom Putthoff said the city could start looking at how to fund the utility project including petitioning the representatives and senators in congress for funding during a Washington D.C. lobbying trip planned for early February.
Dan Gutshall, chair of the port authority's land search committee, has been working for years on developing a new industrial park in the county. He said now that Tonganoxie was in the process of looking for funding the city needed to take a bigger lead in making the industrial park a reality.
"Everyone is going to ask first what is Tonganoxie going to do," he said. "I challenge this committee and the council to sharpen their pencils and decide in your mind what you will and will not do. There is risk and reward with any direction that you go."