Library fitness class helps participants relax, unwind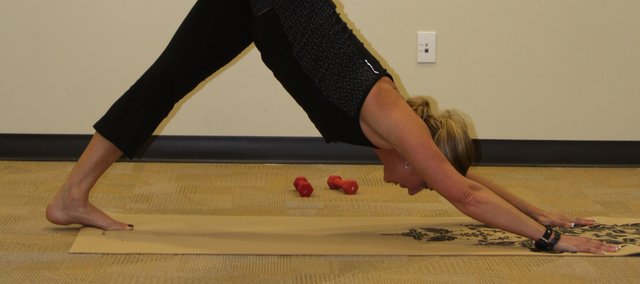 A series of classes have started at the Basehor Community Library that have nothing to do with books or reading.
The PiYo classes on Thursdays and Saturdays offer Basehor community members a way to unwind and tone their muscles, says PiYo instructor Cindy Grover.
"It really is a stress reliever," Grover said. "When people miss the class, they miss it. Then they come back and it's like, 'Ah, OK, I'm here, I can relax now.' Everyone's so calm when they're at the class."
Grover, who has been teaching fitness classes for more than 20 years, said PiYo was a unique exercise class in the sense that it combines Yoga, Pilates, balance work and strength conditioning to make a well-rounded routine.
"It's not your old-fashioned Yoga class," Grover said. "It's not a cardio class, but you use your own body weight for strength conditioning and focusing on making your body long and lean."
The classes, which start at 6:30 p.m. on Thursdays and 9:30 a.m. on Saturdays at the library, cost $5 each, so participants can pay as they go. Grover said she also offered the option of paying in advance for those people who preferred that method.
"A lot of people do like to pay for six-week passes instead of paying every time," she said. "But for others, it's really convenient to be able to pay for individual classes."
The library's PiYo students, which usually number about 17 each class, come from all walks of life, Grover said. Most of the participants are around age 40, Grover said, but many of those who come to the classes are much younger or older.
"It's a wide range," Grover said. "My youngest girl is about 14 years old, and then I have someone who is probably around 65."
One of the reasons such an age gap can be supported by PiYo is the classes' easy-going pace, Grover said. There is no pressure to do the impossible, and participants can stop whenever they'd like.
"Everyone has their own limitations," Grover said. "You just do what you can. Everyone can take a break at any time and get back in when they're ready."
The class is designed to spend six weeks working on one lesson, which Grover says gives people enough time to learn the motions of the lesson and to form some muscle memory for an easier, wider range of motion.
"We add new elements to each lesson, so it never gets boring," Grover said. "We might incorporate some movements we used in old lessons, but we change the arm motions or something like that."
As instructor of the class, Grover says her favorite aspects of PiYo are interacting with the people and seeing their progression through time.
"It's very rewarding," she said. "I love seeing people improve. I've had people tell me it's increasing their flexibility, or they're dropping pants sizes, and they're so happy about it. It's a great class, I just don't think the word has gotten out about it."
For more information about this or other classes offered at the Basehor Community Library, call (913) 724-2828, or go to basehorlibrary.org.