The year's top stories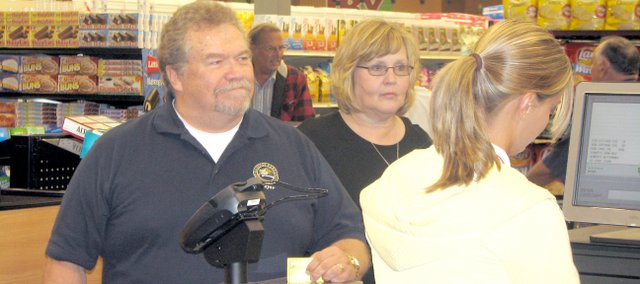 As 2010 quickly approaches, the Sentinel remembers 2009.
The year brought several pivotal changes to the City of Basehor, including new employees, a much-awaited grocery store and a large federal grant for a USD 458 project. These are, in no particular order, the Sentinel staff's picks for the top five stories of 2009.
resident sentenced in sex case
Five months after his arrest, a 67-year-old Basehor resident convicted of engaging in inappropriate sexual behavior with elementary-age students was sentenced to more than 10 years behind bars.
Dorsey Aldridge was sentenced to 120 months in prison on Nov. 20 for one count of aggravated indecent liberties with a child and 32 months for each of two counts of aggravated indecent solicitation of a child, to be served concurrently with no chance of parole. After his release from prison, Aldridge would be subject to lifetime supervision.
Aldridge was arrested in May after Basehor Police investigated the reports of sexual misconduct. Police concluded Aldridge approached the girls near his Basehor residence, solicited sexual acts from them and inappropriately touched both of them.
On Sept. 17, Aldridge accepted a deal with prosecutors in which he pleaded no contest to one count of aggravated indecent liberties with a child and pleaded guilty to two counts of aggravated indecent solicitation of a child in exchange for the dismissal of an additional charge of aggravated indecent liberties with a child.
Aldridge's attorney, Christopher Joseph, requested leniency from the court during the sentencing hearing and recommended a suspended sentence with probation.
"This is not a situation where you have a predator, where you have a pedophile who needs to be warehoused for the remainder of his natural life," Joseph said.
District Judge Gunnar Sundby rejected the defense's request, saying while Joseph made some good arguments, he could not show that kind of compassion for Aldridge. The crimes, which occurred in May, involved a 6-year-old and 10-year-old girl, authorities said.
Wolf Creek Marketplace opens for business
July 17 marked the official arrival of Basehor's first grocery store in eight years.
Wolf Creek Marketplace had its grand opening at 8 a.m. that day, and a crowd of about 30 eager customers quickly came in after the doors opened to get a look at the store and shop around.
"I feel good," Benchmark Management owner Ed McIntosh said at the opening. "I felt stressed before, but now I just feel good."
Baggers and cashiers were standing post the morning of the marketplace's debut, ready for customers to pass through the checkout line. Mayor Terry Hill was the first person to buy groceries, and he handed the checker the store's first dollar. Former mayor Chris Garcia followed through the line with his family after all of Hill's purchases had been carefully bagged and placed in his shopping cart.
For operating manager Kevin Barclay, the opening meant the end of a long, frustrating battle. As he rushed around that morning, fixing flower arrangements, polishing the floors and setting out tables, he took a deep breath and looked at his finished project.
"We've come a long way," Barclay said. "It feels great to have it all done, and it's only getting better."
School district battles tight budget
Gov. Mark Parkinson announced a round of cuts to the state budget Nov. 23 totaling $259 million.
Parkinson cut public schools by $36 million, in addition to not funding the $156 million needed to compensate for increased school costs. That meant base state aid had been cut from $4,433 per pupil to $4,012 per pupil.
Basehor-Linwood School District Superintendent David Howard said in a previous interview the additional cuts to the state education budget would leave the district with another $402,000 less for the 2009-2010 school year. This newest cut, combined with previous cuts, means Basehor-Linwood is down more than $900,000 from where it started with this year's budget.
At various meetings in 2009, the school board approved fee increases — a transportation bus fee, school lunches, year books and fees for certain classes, among others — and a few cuts — including elimination of a building trades class at the high school — but the ever-decreasing funding was still a battle.
The district had some money it carried over from the 2008-2009 school year, including a savings of about $22,000 from letting school out early, which helped a little. With 80 percent of its budget going to salaries and benefits, Howard said the district was unsure where it would compensate for the Nov. 23 losses.
Changes take place in city hall
Shortly after 9 p.m. April 7, Basehor received word about its new mayor and two new city council members.
The results were totaled, and with 247 votes, Basehor City Council member Terry Hill won the mayoral election. Opposing mayoral candidate and city council member Iris Dysart received 220 votes.
Candidates Dennis Mertz and David Breuer were elected to the city council, replacing members Roger McDowell and Keith Sifford. Both Mertz, JED Installation partner, and Breuer, K.C. Construction owner, ran unopposed in the election.
Hill, information technology director at CompResults in Fairway, said in an April 8 interview he wanted to thank his supporters for all their hard work and reiterate that it was his goal to bring the people of Basehor together.
"I want the two groups in Basehor to work with each other," Hill said. "The group that supports downtown growth and the group that supports outlying growth, I want to send everyone the message that we're going to grow together. Downtown projects will be supported, as will projects in outlying communities."
Nearly two months after the election results were tallied, the council made a couple major changes to the city's personnel.
City Administrator Carl Slaugh, who had at the time overseen the city's operations for three years, resigned May 19, after council members failed to take action on renewing his contract.
Slaugh's contract expired May 19, and renewal of the pact was on the May 18 council agenda. However, no motion was made during the meeting either to renew or not to renew Slaugh's contract. Without a motion, the item died, and Slaugh's contract expired.
Slaugh announced his resignation the next day, to be effective immediately.
Hill said in a May 19 interview the lack of a motion was merely the way the council chose to handle the situation.
"There just wasn't a motion, and that was the council's pleasure," Hill said. "That's just the way it happened."
The news did not come as a complete surprise to Slaugh, who said he had noticed a difference in the council since the April city elections.
"This is kind of like political parties at the state level," Slaugh said. "When elections take place, positions change because parties have changed. I saw a clear shift in this council. I knew it didn't look good."
Two months later, after three executive sessions at the end of the July 20 council meeting, council members unanimously agreed to terminate the contract of Planning Director Dustin Smith, who had been with Basehor since March 2006.
Hill said in a July 22 interview that Smith, who was an at-will employee, had not met the council's standards with his work.
"What I can say at this point is he did not perform to the level of expectation of the governing body," Hill said.
In Slaugh's place, the city hired current City Administrator Mark Loughry, former Hays assistant city manager. Loughry accepted an offer from the city for a base salary of $88,000 and began work Aug. 17.
In Smith's place, the city hired City Engineer Mitch Pleak. Pleak, who came to Basehor after four years as associate engineer at Olsson Associates in Overland Park, joined the staff Dec.16 as an at-will employee with a starting salary of $60,860. Pleak is also currently serving as planning director, as it was the city's desire to combine the two positions, giving first obligation to engineering.
Basehor-Linwood receives welcomed grant
Basehor-Linwood Superintendent David Howard announced at the Aug. 11 Basehor-Linwood School Board meeting the district had received a grant from the government to build a storm shelter in its health and wellness facility.
The U.S. Department of Homeland Security granted the district $849,038 for construction of a tornado safe room in the facility, on which construction will begin soon. The facility will be built in compliance with FEMA 361 guidelines and will accommodate 1,200 people in the event of severe weather.
"This is great news for our district," Howard said at the meeting. "It's not every day you get a grant for that much money from the federal government."
The district presented the idea of the health and wellness center shelter to give high school students and staff a safe area. Howard began the process of applying for the grant in 2008, which included writing a hazard mitigation plan for the school district.
The center itself will be used for strength and conditioning classes, physical education classes and athletic department activities and functions.
"I believe this will be a dual asset to the district," Howard said. "It will not only serve as a fitness facility but also as a safe area for all our high school students and staff."
The grant, which the board unanimously approved to accept at the Aug. 11 meeting, will cover 75 percent of the projected costs to build the health and wellness center.
Once the construction process has commenced, the buildings must be completed within 27 months in accordance with FEMA. Howard said the district was hoping to open the health and wellness center for the 2010-2011 school year.