Poe provides spark
Sophomore guard gives Basehor girls a boost in skid-snapping victory over Tonganoxie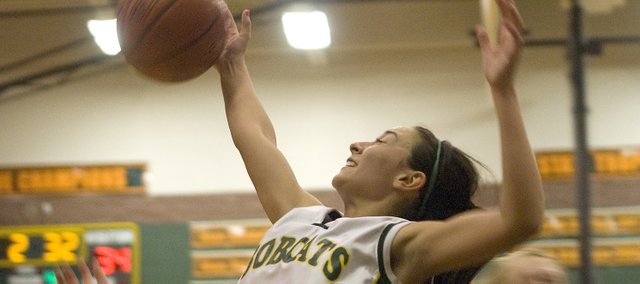 Courtney Poe turned in a breakout performance for the Basehor-Linwood girls basketball team on Tuesday in helping the Bobcats bust out of a losing streak.
She scored 12 points and played tough defense in the Bobcats' 51-36 victory over Tonganoxie, which snapped the Bobcats' four-game losing streak.
"Poe played her best game so far. She took care of the ball well and shot well," coach Noah Simpson said. "We are extremely proud of Poe's performance. We knew there were signs of a performance like this, she showed signs throughout the season and it all clicked for her tonight. She had more minutes and handled it well."
Poe scored 6 points in the fourth quarter as part of an 11-6 run that ended with the team leading 45-34.
During that run, BLHS forced turnovers on defense and limited Tonganoxie's second-chance opportunities off missed shots.
Defense was a point of emphasis for the Bobcats who were coming off a game where they gave up lots of points to Mill Valley.
"Defensively we were much better than last Friday night. We gave up 71 points last Friday and I am still sick to my stomach about it, but we did a better job of getting rebounds and taking care of the ball once we got it."
The Bobcats worked harder on defense, Poe said.
"I thought we had a good night. Everybody was working really hard," she said. "We hustled a lot better than we had been as a team. We are starting to come together and mesh as a team."
The Bobcats featured a balanced scoring attack with Courtney Hooks scoring 10 points in the victory. Megan Bergstrom and Kara Douglas each scored 9 points, Macyn Sanders had 7 and Bren Koontz finished with 4.
"A lot of kids stepped up tonight," Simpson said.
The score was 7-6 early in the first quarter when Basehor went on a 6-0 run to close out the quarter with Douglas making a pair of field goals.
In the second quarter, neither team scored until the four-minute mark as both teams turned the ball over and missed shot attempts.
After a pair of THS free throws, Koontz answered with a field goal at the other end. The two teams each scored 6 points the rest of the quarter and the score was 21-14 at halftime.
Roni Grizzle led Tonganoxie with 14 points in the game. She scored 10 first-half points. Chrissie Jeannin finished with 9 points.
In the third quarter, the two teams traded minor runs and the score was 34-26 at the end of the period.
Basehor-Linwood extended the lead with a 6-2 run to start the second quarter and led 27-16. Tonganoxie answered with a 4-0 run to make it a 7-point game. Neither team made much of a run the rest of the quarter. The score was 34-26 entering the fourth quarter.
With the win, Basehor-Linwood appears to have righted its collective ship and worked through midseason struggles. That comes just in time for a rematch with Mill Valley at 6 p.m. Friday at MVHS.
"Everything we are doing is a learning process to get ready for the last six games of the season," Simpson said.