Strutting their stuff
Dazzlers tackle competition, win award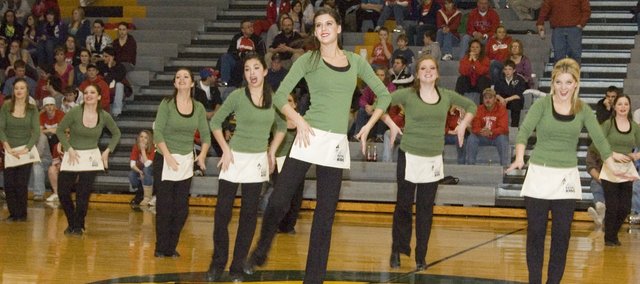 To dazzle means to excite admiration by brilliance. That's exactly what the Basehor-Linwood Dazzlers did at their most recent dance competitions.
The dancers traveled to Olathe for two straight weekends at the end of January and brought home several awards. The 13 girls wooed the judges not only with their skills as a group, but with their individual talent, as well.
At the Jan. 16-17 Miss Kansas Dance Competition, the girls won the Shining Star Award, a Sweepstakes Award, a Judges Award for Precision and a Judges Award for Choreography. Also during this competition, team captain Baily Self and team member Christina Self won an award for Top Duet.
The following weekend, the team went to Kansas Spectacular and took with them another Sweepstakes Award and the Gussie Nell Davis Award. The junior and senior Dazzlers received a Division I rating for their routine, and all duets and solos performed by the Dazzlers that day received Division I ratings.
Dazzlers' coach and sponsor Juli Brown said that she was proud of the effort the girls put into preparation for the competitions.
"They worked so hard," Brown said. "They worked well together and were really willing to put in the extra time to get ready."
The team usually practices at 6 a.m. four days during the school week to prepare for routines at sporting events. When the dancers approach a competition, they attend practice each Sunday in addition to the regular morning sessions. Brown said that April and July were the only months that the Dazzlers had a little time off.
"A lot of people don't realize that this is a year-round sport," Brown said. "After football comes basketball, and after that comes summer camps, and then we're getting ready for the new school year. They are constantly working."
Brown said she saw a drive in this year's team that some of her past teams were lacking.
"I think in a lot of ways that the girls just wanted it more this year," she said. "Other years were not so good, and they wanted to be better this time around."
Captain Baily Kraus has been dancing for the Basehor-Linwood Dazzlers since she was a freshman, and she agrees with Brown's assessment of the team members' work ethic this year.
"We have been practicing nonstop," Kraus said. "It felt good to win those awards, especially because it's my senior year."
Kraus said that she enjoyed working with all the girls on the 2008-2009 team.
"This is my favorite team," she said. "We've all gotten along really well and have bonded well."
Brown encourages community members to watch the girls shine at the Dazzlers' Spring Show at 2 p.m. March 29, at Basehor-Linwood High School. Tickets will be $5 for adults and $3 for students.