BLHS

girls upend first-place Mill Valley
Hooks scores 16 to lead Bobcats to victory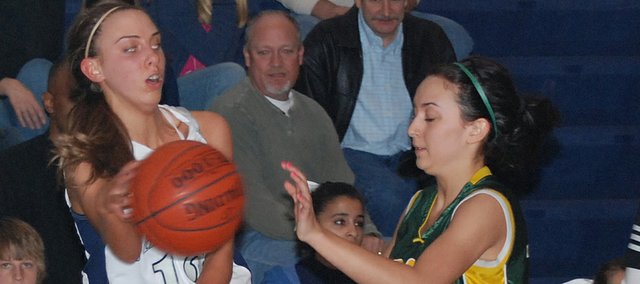 Photo Gallery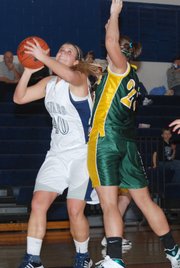 Basehor girls knock off Mill Valley
Shawnee — Mill Valley's speedy guards gave the Basehor-Linwood girls fits just seven days ago, and BLHS basketball coach Noah Simpson knew he needed to do something to prepare his squad for Friday's rematch at MVHS.
Simpson's solution? Turn to one of the program's biggest supporters for help — BLHS boys basketball coach Mike McBride.
"I can't say enough to coach McBride and his staff and his team," Simpson said. "He brought the JV boys in on Wednesday and they scrimmaged us against the press and put pressure on us to help us see the simulation of that speed that Mill Valley was going to bring. It allowed us to know that we can't just run up and down the court and kind of bang into it. We've got to slow it down and take care of the ball, and I thought we did a tremendous job of that tonight."
The Bobcats handled the Mill Valley pressure all night, and in the end they pulled out a 50-44 victory.
Mill Valley coach Diana Krull noticed the difference in the Bobcats.
"Basehor's a good team and they took us out of our bread and butter which is get up and down the floor," she said. "They found ways to slow the game down a little bit and get it to their pace."
The keys for Basehor were simple: take care of the ball and crash the boards. The Bobcats did both. They had just nine turnovers for the night, and they scored numerous points on second, third and fourth tries.
The offense started slow for both teams. Mill Valley missed its first seven shots and Basehor made just two of its first 11. The game was tied 6-6 after the first six minutes. Amber Jeannin buried a 3-pointer and Kara Douglas sank back-to-back jumpers in the final two minutes, however, and BLHS had a 13-10 lead after the first quarter.
Basehor super sophomore Megan Bergstrom picked up two first-quarter fouls, but she stayed in the game and made sure the Bobcats didn't falter. Mill Valley forced four turnovers and Becky Newhouse scored 4 points in an 8-2 run to open the second quarter that put the Jaguars ahead 18-15, but Bergstrom swished a 3-pointer and a turnaround jumper during a 9-0 response that put the Bobcats back on top, 24-18. Mill Valley rallied in the final minutes of the quarter with two Newhouse layups and a pair of free throws by Erika Wheeler, but BLHS led 27-24 at intermission.
Mill Valley spent the second half trying to battle back. It trailed by as many as 8 points and as few as 1 but never tied or led.
Poor shooting from the field and from the line did too much damage for the Jaguars. Basehor also was frigid from the field and stripe, but offensive rebounds made up for the misses. Nobody took more advantage of the extra tries than Basehor's Courtney Hooks. Hooks scored two third-quarter baskets on put-backs and grabbed a handful of other offensive rebounds that set up teammates' baskets.
"They're good enough that if you don't box them out they're going to make you pay for it," Krull said of the Bobcats.
Mill Valley whittled an 8-point deficit to just 38-37 on a steal and coast-to-coast layup by Newhouse with 41 seconds left in the third quarter. A turnaround jumper by Bergstrom right before the buzzer boosted the lead to 40-37.
Mill Valley made just two of 13 shots in the fourth quarter and was 2-for-7 at the free throw line in the final stanza.
Basehor wasn't in much better shape as it was 1-for-4 on field goals and 8-for-21 at the free throw line. Mill Valley pulled within 43-42 on a 3-pointer by Emily Altman with 2:42 left, but Hooks answered with an 18-footer.
Mill Valley still had life left, but two steals by Amanda O'Bryan led to some game-clinching free throws for the Bobcats.
"A sophomore stepping in and filling a role like that, that's huge," Simpson said of O'Bryan's clutch play. "We're without Macyn Sanders tonight — she got hurt in the JV game so we're down to a seven-man rotation, and I thought our kids fought hard, stuck with it, stuck witht eh game plan and just did a great job."
Hooks scored a game-high 16 points for Basehor. Bergstrom scored 12, Jeannin had 10, Doublas had 6, Bren Koontz scored 5 and Courtney Poe added 1.
Newhouse and Altman led MVHS with 12 points apiece, Nicole Garretson had 10, Whitney Hartman scored 4, and Erin Graviette, Katie Maybell and Wheeler each chipped in 2.
Mill Valley fell to 6-7 overall and 6-1 in the Kaw Valley League with the loss. The Jaguars now are in a three-way tie for first with Piper and Lansing. Basehor improved to 10-4 overall and 5-2 in the KVL. Mill Valley next plays Monday at home against Turner. BLHS plays Tuesday at Piper.