Mill Valley edges
BLHS

boys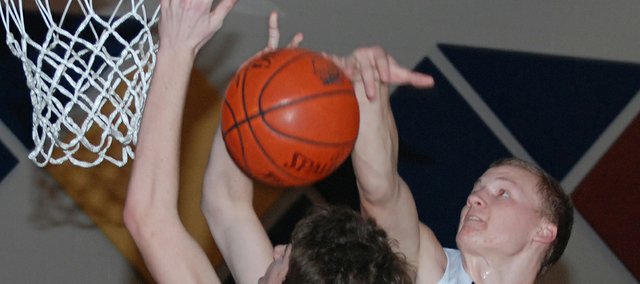 Shawnee — Max Carroll's layup with 2:54 left made it a new game between the Jaguars and visiting Basehor-Linwood.
Tied at 48-48, the boys basketball showdown took wild twists and turns during the final minutes, with none bigger than Mill Valley senior Tanner Rainbolt's pull-up 3-pointer with 17 seconds left and a no-call at the other end at the buzzer that sealed the Jaguars' 53-52 victory Friday night.
"Our seniors haven't beaten them. We talked about that at halftime; even before the game, actually," Mill Valley coach Justin Bogart said. "We said, 'there are some teams in our league that have never beaten us,' and while that's not necessarily the case against somebody else, we haven't beat Basehor in three years and they've put it on us pretty good. It's nice to get one from them."
While the victory was cause for celebration for Mill Valley, it was the latest case of frustration for BLHS coach Mike McBride. Even though his Bobcats remain in first place in the league, he hasn't been pleased with his team's focus in recent games.
"We've been fighting for two or three games. You always talk about confidence and cockiness, and I think our team, we crossed the line a little bit with cockiness," McBride said. "The first half we didn't have good energy again, we weren't talking, we didn't even act like we halfway wanted to be here half the time, so coming in here against a good team like Mill Valley you're not going to win doing that.
"It's probably a good wake-up call for us. We've still got to work to get to state. Teams aren't just going to let us go to state and our kids are going to have to figure that out."
McBride's team had a chance to take control of the game early, and BLHS still was in the game right down to the wire.
Neither team led by more than 6 at any point in the game.
Basehor held its biggest lead early when it opened the game on a 6-1 run. Mill Valley countered with a 7-0 run. A pair of free throws by Basehor's Chandler Schaake tied the game at 8-8, but a 3-pointer by Carroll from the top of the key put the jaguars on top. After a Schaake layup, Rainbolt knocked hit a trey. A 3-point play by Basehor's Richie O'Donnell at the end of the first quarter pulled the Bobcats within 14-13.
Colin Murphy and Clint Schierbaum scored back-to-back baskets at the start of the second quarter and Tanner Bowers buried a 3-pointer during a 7-2 Bobcat run. Mill Valley rallied to the the game at 21-21 and then inched ahead with two baskets by Carroll, a layup by Kyle Powers and a floater by Chad Perkins. Two late baskets by O'Donnell brought BLHS within 30-28 at halftime.
Basehor tied the game at 32-32 midway through the third quarter, but an 8-2 Jaguar run — keyed by two free throws and a jumper by Carroll — gave Mill Valley its largest lead of the game at 40-34.
The Bobcats weren't going anywhere. A lay-in by Schierbaum and a pull-up jumper by Mark Vaca reignited the BLHS offense and pulled the 'Cats within 41-38 entering the final quarter.
After trading baskets and free throws during the first three and a half minutes of the quarter, BLHS pulled even at 44-44 with a free throw by Anthony Pierce. Later, a Pierce 3-pointer put Basehor on top, 48-46 before Carroll's layup tied the game with 2:54 to go.
During the next few minutes, Mill Valley took the lead on a layup by Powers, Basehor climbed on top with a trey from Bowers and a free throw from Schaake.
Rainbolt's 3-pointer from the top of the key with 17 seconds left put Mill Valley ahead, 53-52.
"I always want the ball," Rainbolt said of the clutch shot. "The best players want the ball at the end and know they'll make the shot."
Moments later Taylor Reinoehl poked the ball loose as Basehor pushed it down the floor. Powers dove for the ball and forced a jump ball.
Mill Valley retained possession, and Carroll was fouled immediately after the inbounds pass. He missed a free throw. Bowers attacked the basket at the other end. He drew contact while attempting the go-ahead layup. No whistle was blown, and the buzzer sounded on the game.
Mill Valley's poise down the stretch was in contrast to the teams' meeting less than two weeks ago. Bogart said he was pleased with the way his team held on this time.
"I like the way we finished it, no doubt," Bogart said. "The lugnuts loosened but the wheels didn't fall off. Basehor puts so much pressure on you at the end of the game. I'm very proud of our kids for hanging in there, not letting them get a 3-point lead. A 3-point lead would've been different, but a 1-point, 2-point lead, that's a little easier to overcome."
Carroll led all scorers with 18 points. Rainbolt scored 12; Sterling Roaf, Kellen Kinnamon and Powers had 5 apiece; Reinoehl scored 4; and Perkins and Jonathan Anaekwe each added 2.
Schierbaum led Basehor with 12. Pierce scored 8; Bowers, Schaake and O'Donnell each scored 7; Ryan Murphy had 5; Vaca scored 4; and Colin Murphy chipped in 2.
Mill Valley improved to 9-5 overall and 5-3 in the KVL. The victory was the Jaguars' third straight. They next play Monday at Leavenworth.
The loss was Basehor's first in Kaw Valley League play this season as the Bobcats improved to 11-3 overall and 6-1 in the KVL. The Bobcats next play Tuesday at co-league leader Piper.
McBride said the loss won't hurt his team's standing in the league, and it should help motivate the Bobcats to be more focused down the stretch.
"Everything's still intact; everything's still there," McBride said of his team's chances of winning a third straight KVL title. "We'll be upset about it for a couple days, and when it's all said and done we should end up at the state tournament."