Hunters scramble for squirrels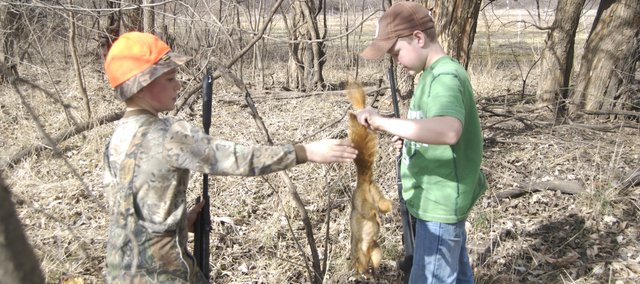 Kody Nehl and Zach McCowan waited in silence in some woods just outside Tonganoxie with pellet guns locked and loaded.
They scanned the treetops hoping to catch sight of a red or gray squirrel to add to their kill count. Although Nehl has hunted deer and turkey before with his father, Jess Nehl, this was his first time he was able to hunt a little bit more independently with Dad a few feet behind him.
After several hours, the two boys didn't have much luck and were only able to get a 1 pound, 15.4 ounce red squirrel for their team the Mini Nuts, but they were still happy with their day.
"It was fun and exciting," Nehl said.
The Mini Nuts, along with 137 other teams from Kansas, Missouri and some as far as Texas, gathered around Tonganoxie for the third annual Squirrel Scramble.
Adam Bryant and Randy Smiley were the creators of the event.
They wanted to bring friends or parents together with their kids.
"We wanted an event that gets back to hunting and the roots of hunting and having it with your father and with your son or daughter and teaching the ethics of hunting," Smiley said.
Although the 71-degree temperature was great for a lot of outdoor activities, it did hinder some of the hunters.
Bryant said the warmer weather makes the squirrels a little more lethargic so they don't move around as often.
Many of the teams that returned for the 4 p.m. weighing in deadline did not meet the full quota of five red squirrels and five gray squirrels.
In the end, McLouth's Bushy-Tailed Bandits, composed of Wyatt Hermann and his father, Lonnie Hermann, took first place in the youth competition. Their 10-squirrel catch weighed in at 14 pounds, 7.6 ounces and got them a $150 prize.
Wyatt said he and his dad began hunting at sunrise in their farmland and shot their 10th squirrel just after 3 p.m.
"It's a great feeling," Wyatt said about winning the title.
On the adult teams, the Lesbian Train Wreck team composed of men from Oskaloosa and Warsaw, Mo., won the $500 grand prize with a catch of 14 pound, 14 ounces. The team had a family emergency and was not available to accept its prizes.
Bryant announced the squirrel scramble will now officially be on the first Saturday of February.