Bump up in weight doesn't slow Basehor's Seaton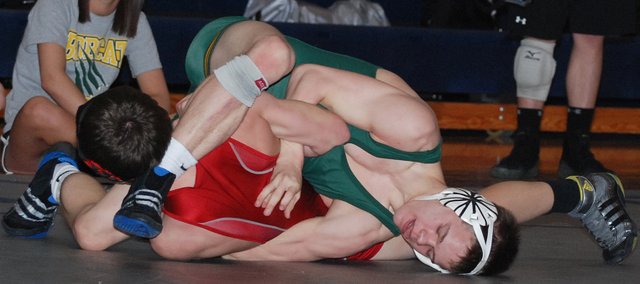 Photo Gallery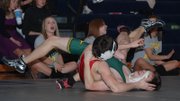 BLHS wrestlers compete at Mill Valley duals
The Bobcats defeated Ottawa and fell to Mill Valley in dual competition on Thursday.
Shawnee — Symon Seaton sat slumped against the wall of the Mill Valley High School gymnasium, still catching his breath after a wild 11-6 victory over Mill Valley's Devin Ellison on Thursday.
Seaton, a Basehor-Linwood sophomore, had just wrestled his second 130-pound match of the night and he was exhausted.
Normally he wrestles at 125 pounds, but he bumped up a class on short notice to help the team field a complete roster for its duals against Ottawa and Mill Valley.
"I ran this morning to (cut weight) to 125, and then I found out tonight I was wrestling 130 because another wrestler had ringworm," Seaton said.
Seaton won both of his matches for the night, pinning Ottawa's Garrett Brown in the first period and then going the distance with Ellison in a match where Seaton built an 8-3 lead by the end of the second period with a reversal and a 2-point near-fall and then fended off Ellison's comeback bid in the final seconds of the third period.
Strength was a big disadvantage for Seaton in the matches, he said, but he noted that the experience would benefit him when he returns to his usual weight class.
"I think it's good to wrestle bigger guys," he said. "Shoot, I should probably be at 119, and I'm wrestling 125 anyways. I've got to be used to bigger guys. It's just like in practice. I'm always wrestling against Joe (Johnson), our 145-pounder."
Seaton's victory over Brown helped Basehor defeat Ottawa, 52-21. Mill Valley beat BLHS, 54-13. In the first dual of the evening, MVHS beat Ottawa, 46-23.
In addition to Seaton, Derek Pike went 2-0 at 140 pounds and Johnson went 2-0 at 152 pounds.
Mike Torrez (103), Preston Farris (112), Antonio Ferro (119), Tyler Ogden (135), Chandler King (160/171), Zach Roberts (189), Justin McLaughlin (215) and Zach Wilson (285) all went 1-1 for the day.
The duals marked the final tune-up for the Bobcats before the Kaw Valley League Championships at 9 a.m. Saturday, Feb. 14, at the Bonner Springs YMCA.
The Bobcats placed seventh at the KVL Dual Tournament in December when the format pitted teams in separate pools competing head-to-head as a team. The league championships will be different, using a double-elimination bracket format for each weight class. Team points will be awarded based on individuals' success in their respective weight classes.
The Bobcats have a handful of hopefuls for individual league titles. None have greater expectations than Seaton. He likely will run into rival Derrick Weller of Piper at some point. Weller, a junior, is ranked No. 1 in the state in Class 4A. Seaton is No. 2. They've wrestled twice this season and split the series. Both matches went to overtime.
Interestingly, they are good friends who practice together in the offseason so they know each other's strengths and weaknesses well.
"I'll see him at league, regionals and probably state, too," Seaton said, noting that the pair are good friends. "I think it's kind of funny how we both live like 15 minutes away from each other and we are some of the best in the state."