Columnist exchanges warmth, sleep for adventures of dog sled racing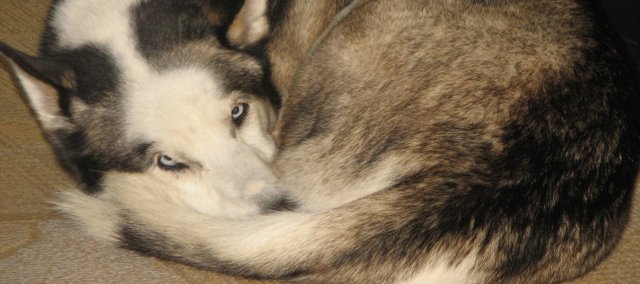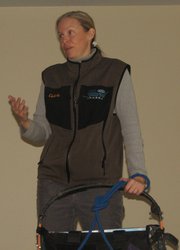 Karen Land smiles and looks up from a picture of her dogs nestled in a pile of snow.
"They're real characters, I'll tell you that," she said.
Land, a columnist for the Great Falls Tribune in Great Falls, Mont., has competed in the Iditarod dog sled race three times. On Feb. 4, she visited Basehor elementary schools and finished her tour at the Basehor Community Library. Land and one of her dogs, Borage, made the trip to talk about her sledding adventures.
The first time that Land braved the 1,150-mile Iditarod, she placed 49th out of 65, completing the race in less than 14 days.
"I was just happy I wasn't dead last," Land said. "Fourteen days isn't such a bad time, and I got faster after that."
Friends and family members were supportive of Land competing, but they were all very surprised that she wanted to take such a snow-packed trek.
"I hate cold weather," Land said. "Also, I love to sleep. The Iditarod is not the place for people who love to sleep. Overall, I was terrified when I got to the starting line, but I had a dream to do it."
The race starts each year on the first Saturday in March in Anchorage, Ala., and ends in Nome, Ala. Land said there were about 20 checkpoints along the way, where mushers could get food and supplies and rest the dogs. The Iditarod is a 24-hour race, so mushers and their dogs are running day and night, resting only when necessary until they finish.
Land's strategy was to run six hours and rest six hours each day of the race. She trained her dogs to run for exactly six hours so they would be set in a routine when they got to the Iditarod.
"And boy they stick to that routine," she said. "If I would try to go six hours and 15 minutes, they would start to look back at me like, 'What the heck, lady?'"
The dogs burn more than 10,000 calories a day on the sled trail, Land said, so most of the dogs that run in the Iditarod are small and lean. But the dogs' strength and desire to run gave way to Land's number one rule in mushing: Never let go.
"It sounds insane," Land said, "but you can never let go. Your dogs will leave you if you let go."
When mushers near the finish line in Nome, Land said the town always sounds its storm sirens in greeting. She said the sound of the sirens was unbeatable.
"When you hear that, your heart jumps," she said. "You know you're there. You finally did it. You made it."
For more information about Karen Land, visit her Web site at mymusher.com.